This is a guest post from Varunika Dhar, wherein she has listed the leading job portals for freshers as well as experienced professionals.
Technology has brought a huge disruption in the talent acquisition and hiring process. It is no more a simple process as it used to be some years back, both for the recruiters and the job seekers. Job portals play a very important role in minimizing the gap between the two. This is the reason why so many job portals have been doing well and have been used by millions of organizations and candidates.
Job portals have seen tremendous transformation ever since they came into existence in the 1990s. Starting as mere job listings, these portals enhanced their features and became more like a career hub for millions of professionals. Their membership range from freshers to professionals in the mid of their career to those in leadership positions. With tons of data, today it is more of a collaborative approach with humans, bots, and AI having an almost equal role.
From the Companies/Recruiters' perspective, the job portals are considered the most cost-effective as well as efficient means to get the right talents. There are a plethora of choices the organizations can choose from – right from mass recruitment to leadership positions – the HR professionals can select the platform accordingly to have access to the right and qualified candidates. For companies, these portals make more than searching for talents. These job portals offer much more space to showcase their employer branding as well as employees' testimonials.
With so many job portals, it becomes very difficult to understand which are the best ones. After all, it is very time-consuming and not possible to use all the available resources. Here are some tips:
Choose the right job boards for your industry: Do you know there are niche portals that help you with the right kinds of jobs? For example, if you are in tech industry, probably you should check out those which have the best listing for tech jobs. Similarly, if you are interested in start-ups, probably you should opt for Apps like Hirect. The same goes for Finance, Legal, Government, etc.
Choose the one with enhanced features: Since job search is a time consuming process, you must try those sites that send you the alerts whenever there's a vacancy that fits your criteria. Though many of these sites have such features, not many are precise enough.
Look for credible data: There are many sites that populate their lists with fake data to make it look more comprehensive and attracting more candidates, It is not difficult to differentiate though.
In this article, we will focus more on those portals which are generic and popular.
Starting from a professional networking site today, LinkedIn lists the best vacancies worldwide. The site is more of an integrated and more complete solution for both the candidates and the recruiters. From the candidates' perspective, LinkedIn provides the best information about the employers; one can check the current employees and what they feel about their organizations. From the recruiters' point of view, the platform offers services that help both with talent acquisition and preparing the pool for leadership roles. This professional networking site is pretty much a beneficial tool for the simple reason that it provides complete information about a candidate. Apart from the resume, a recruiter can visit the candidate's profile and understand his strengths and interests from the activities or the posts shared.

With around 546 million contributors worldwide, which includes executives from all Fortune 500 organizations, LinkedIn is the world's biggest well-qualified community on the Internet. The organization has a diverse enterprise version with cash flow coming from Talent Solutions, Marketing Solutions, and Premium Subscriptions products. Headquartered in Silicon Valley, LinkedIn has workplaces throughout the globe.
An online recruitment community enables organizations of all sizes to discover the right match for each hire. The platform is a supply of applicants for various organizations that facilitates power to hundreds of thousands of candidates to work in each field. Users are furnished with an effective applicant monitoring system (ATS) for dealing with applicants and monitoring outcomes simultaneously as on-the-move through cell devices.

The result permits groups to put up activity listings without delay to the mentioned platform, automatically covered in applicable searches through hundreds of thousands of task seekers online. Users can upload process information into accessible fields through a computer or cellular app, preview listings to ensure accuracy, and post within minutes. Screener inquiries can be uploaded to clear out any unqualified applicants.

Indeed allows customers to integrate all candidate communications in a single place, including viewing their resumes, agenda interviews, and conveying messages. Users can set candidate statuses as reviewed, interviewed, rejected, or hired and make applicant notes to mark impressions. The result additionally allows groups to create and post rejection letters to dropped applicants.
Starting in the early days of the internet in India in 1997, this continues to be the largest job seeker platform in India. Its parent company, Noida-based Info Edge, also owns JeevanSathi.com, 99acres.com, and Shiksha.com. Its enterprise version relies upon task listings and company branding or visibility advertisements and resume database access.
Naukri.com is considered to be best for junior to Mid-Senior level recruitment. It is very user-friendly and creating a profile does not take much longer.
Additional functions of the platform include career seeker offerings like candidate offerings that are free of cost for profession seekers; added-value functions like resume writing, highlighting, etc., for work seekers; and gear to search around the database of resumes and employment screening packages for company and recruitment guiding expert for customers.
The first chat-based platform is an advanced direct recruiting platform for start-ups and growing SMEs. Instantly connect job seekers to start-up executives eliminating the need for a middleman and vice versa. It allows you to recruit skills from any region of the world. Hirect intends to boom the performance of the recruitment system through the usage of AI technology to supply a steady and genuine match of tasks and skills primarily based totally on a large number of consumer data.

The objective of Hirect is to attach India's start-up environment with top-notch human abilities enclosed by a working day and at an utterly nominal cost.
Started as a platform where current and former employees anonymously review companies, it also allows users to anonymously submit and view salaries, search and apply for jobs on its platform.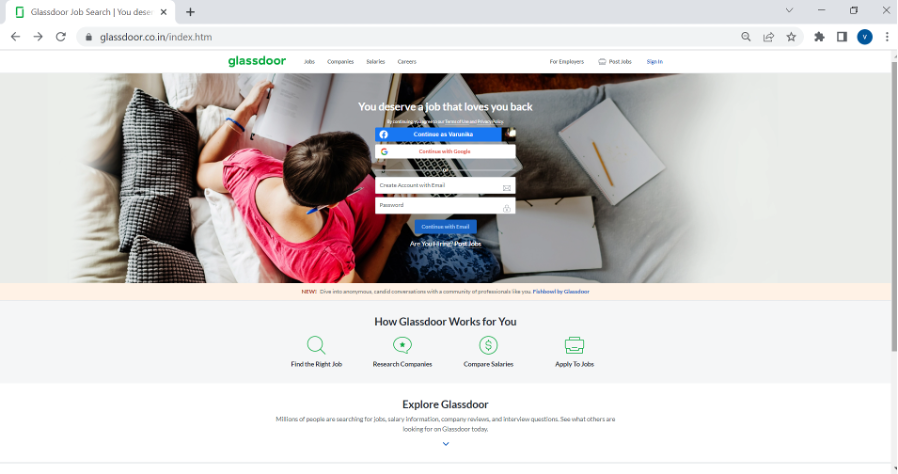 Businesses of all sizes can use Glassdoor to recruit aspiring applicants, publish activity openings, seek resumes, and evaluate queries. Employers can foster transparency by assisting candidates in studying the employer via rankings and opinions published through the modern or ex-personnel and companies' responses to opinions and troubles. Candidates can use the answer to go looking and observe for jobs consistent with employer, activity, and area preferences. It gives a hobby dashboard that provides metrics around viewers, employer followers, profile activities, and website traffic. Additionally, employers can replace their profile in keeping with new hiring, company branding trends, and candidates' expectations.
IIMjobs.com is a web-based job seeker platform especially centered around business college graduates. It has a good listing for the experienced as well. This platform deals mainly in jobs such as Finance, Consulting, Marketing, HR, IT, and Operations. The online portal allows
customers to put up their resume and customize their career feed primarily based on
their options in Finance, Sales & Marketing, Consulting, Operations, etc.
The portal differentiates itself from the rest by allowing candidates to share video profiles. One can also see who is recruiting for a particular position, thus increasing the trust factor that the job posting isn't a fake one.
It is an online job seeker platform that was founded in 2008. One of India's largest online job portals, the platform connects job seekers and recruiters by correctly matching candidate profiles to the application process openings via a sophisticated two-way manner matching technology. While maximum career portals most effectively focus on getting applicants the following job, Shine specializes in the complete profession boom of applicants.
To this point, Shine has released Shine Learning- India's biggest profession abilities webpage for operating specialists with over 500 plus courses and certifications.
With the job market rapidly expanding, there is an ample number of new professionals who graduate each year. As an employment seeker, you ought to first specialize in your skills and determine what you're superb at. Most companies prefer specialists who, together with the mandatory skills, are good at communication, and teamwork, and have a decent degree of creativity.

And once you have made up your mind about which profession you want to enter or have selected a sector you'd wish to work for, simply visit the list of the most effective job portals in India that's given in this article.