You have heard a lot about cryptocurrencies over the last 1-2 years. The Cryptocurrency market is evolving fast, and 2021 has been the defining year. There are certainly many opinions about these emerging digital tokens. Given the hype, you would wonder why there is so much controversy. You may be skeptical about whether you should invest. It is high time you should know the investment options and dig a bit more about them.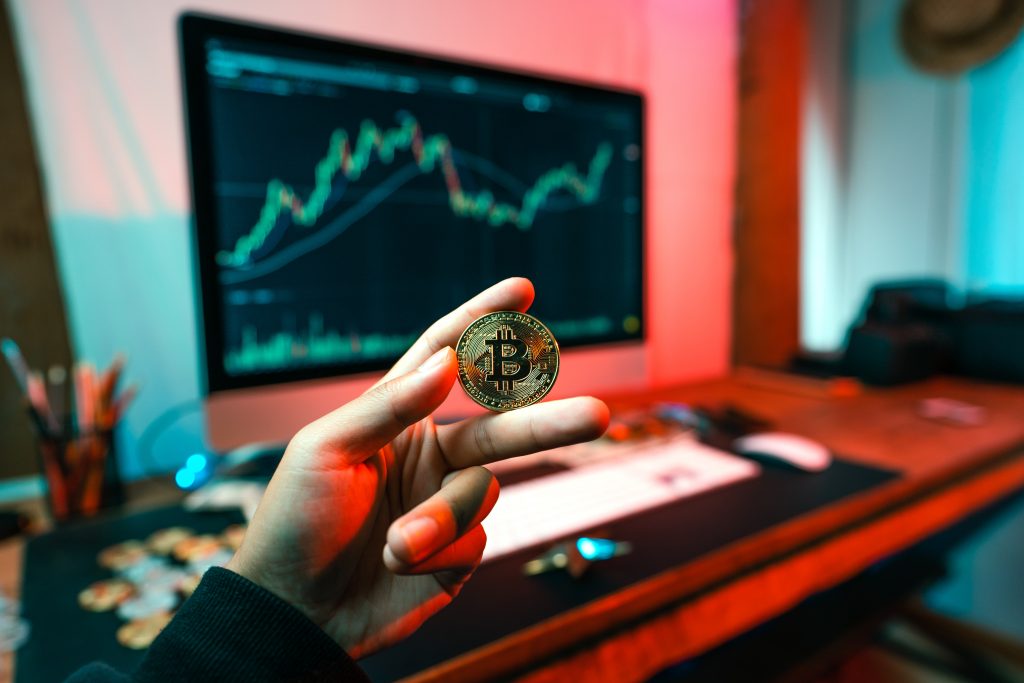 Do you know about 8% of Indians are already invested in cryptocurrencies? As per a 2021 Global Crypto Adoption Index by blockchain data platform Chainalysis, India ranked second in crypto adoption worldwide, behind Vietnam and ahead of countries such as the US, UK, and China. The acceptance has been from men and women from metropolitan cities to tier two and three cities and towns, young students to mature professionals and artists to Bollywood.
Here are five simple ways to kickstart your journey for investment:
1. Know the basics
If you are a beginner, here are some of the terms and phrases that will help you better understand the world of crypto investing. You must be aware of these before taking a concrete step towards investment: Demystifying some crypto terms
Understand that Cryptocurrency is beyond Bitcoins; a few years back, most people used to think cryptocurrencies were equal to that Bitcoins. There are several other cryptocurrencies like Etherium, Solano, Cardano, etc. are also good options. Every day new tokens are being launched. Albeit, Bitcoin is still ahead in the race for popularity and is almost synonymous with cryptocurrency.
The penetration of information or knowledge about the currency is still very low. As per a report released by Gemini Trust Company, a US-based cryptocurrency exchange 'The State of U.S. Crypto Report,' Bitcoin continues to be almost synonymous with crypto, but few have heard of other coins. Most owners or crypto- curious (95%) have heard of bitcoin, while little more than one-third have heard of Ethereum.
2. Understand the regulations
India's Love-Hate relationship with Cryptocurrency is much known. Given the intense complexity of the matter, the debate on the legal aspects continues. However, over the last few months, there have been a few positive steps towards recognizing the industry and its presence. For instance, earlier this year, Finance Minister Ms. Nirmala Sitharaman while unveiling the budget for the fiscal year 2022-23 announced that a new digital rupee powered by blockchain technology to be issued by the Reserve Bank of India starting 2022-23. In the same Budget, it was announced that income from the transfer of digital assets would be taxed at a 30 percent rate for the first time. This would impact gains from cryptocurrency and NFTs as well.
It was definitely positive news for the crypto community. Time and again, the Reserve Bank of India had said cryptocurrencies like Bitcoin, Ethereum, and Dogecoin, among many others, pose a risk to financial stability and question their claims market value. Sumit Gupta, CEO and Founder of CoinDCX, said in a series of tweets that the Taxation of Virtual Digital Assets or #crypto is a step in the right direction. It gives a lot of clarity. India's focus on digital innovation and the promotion of blockchain is welcome.
The government was planning to introduce a bill to regulate cryptocurrency in the winter session of Parliament, but it could not happen.
Cryptocurrencies timeline in India: a look back at regulatory milestones
3. Open Cryptocurrency Trading Account
More than ten homegrown cryptocurrency exchange platforms are there – Unocoin, WazirX, Zebpay, CoinSwitch, and many more. Two crypto exchanges from India — CoinDCX (Co-founded by Sumit Gupta and Neeraj Khandelwal) and CoinSwitch Kuber (Ashish Singhal, CEO and Founder)— turned unicorns in 2021.
You may opt for any of these platforms and the registration process is quite similar. The account opening process is simple. You may choose to download any of these Apps from your Smartphone's Google Play Store. For example, on WazirX, you can trade on all platforms – Web, Android & iOS mobile, Windows, and Mac apps
On the homepage, you have the 'Sign Up' button. Enter your email address, set a password and click 'Sign Up'.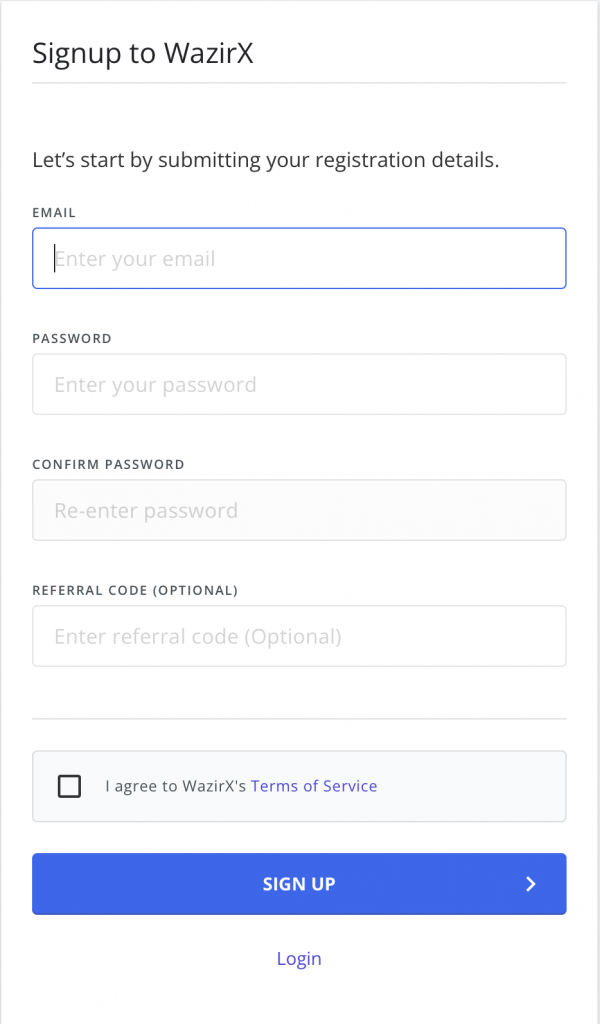 You will receive a verification email. Click on 'Verify Email' and then you will be asked to enter your mobile number for an OTP for security. Upon entering the OTP, you need to select your country. In addition to this, there will be two options to select from:- 'Without KYC and 'With KYC'.

KYC means "know your customer." It refers to a financial institution's obligation to carry out identity checks on its customers as a part of mandatory step before allowing them to use its platform. Several Crypto exchanges have made it mandatory. Binance, for example,  announced in August 2021 that new customers would have to provide a government-issued ID and pass facial verification in order to make deposits and trades.

'With KYC' option, one needs to fill in name, date of birth, address, state, city, Pincode, PAN card number. You will also need to attach a digital image of your PAN card. You can also use other identity proof documents like Aadhaar card, passport or driving license if you don't have a PAN card. You will also have to upload a selfie while holding your original identity proof that you would attach in the previous step.
You can close the process by clicking 'Submit For Verification.' You will receive a confirmation email stating whether your KYC is approved or not within 24 hours after submitting your documents.

The process is very standard and one can refer to several videos that help you with step-by-step from signing up to confirmation after submitting the documents. Ashish Singhal, co-founder and CEO of CoinSwitch Kuber, in an interview to the Forbes Magazine said that they are making crypto investing as simple as ordering food online. "The aim is to create an investment ecosystem that simplifies investing in crypto for retail users," he said
4. Cryptowallet – you need to store your currencies
If you want to trade, buy and sell cryptocurrencies, or for that matter, any blockchain-based applications, you need a crypto wallet. It allows you to store and transfer your funds with complete security because they are cryptographically safeguarded. Traders need them to store crypto securely, as well as to protect and validate transaction information.
To store your cryptocurrency, you can use a variety of wallets. The simplest option is to keep it on the crypto exchange where you purchased it. Called a hosted wallet, they allow you to buy and sell. Some of the most popular Indian crypto wallets include WazirX, Coinbase, and CoinDCX. The wallets are anonymous and may be accessed from a computer, mobile device, or laptop. These wallets allow you to buy, sell, and manage your cryptocurrency directly on their site.
You must note that the wallet that crypto exchanges offer does not have a private key. A private key is vital, and therefore having a crypto wallet is an absolute must. With the crypto wallet, one can manage all your digital assets in one secure place, receive and send cryptocurrency to and from anywhere in the world, have your own private keys, browse Dapps (decentralized finance apps), and at any store that accepts cryptocurrency.
5 things you should know about the crypto wallet
5. Cryptocurrency is a long-term investment
Any investment is considered best when done over a long time. The same has been observed for cryptocurrencies. Investors consider digital assets seriously. They are treated at par with other financial investments. As more and more people are investing, the trust in the market is increasing. There is no negativity or insecurity whatsoever when retaining these assets over a reasonable time.
You may start with a very small amount, and with time and more understanding of the markets, you may scale up your investment. Like any financial product, crypto investments have their risks. Keep a tab over the market by subscribing to many websites that give ample information, forecast, and daily market situation.
Conclusion
Will Cryptocurrency become mainstream soon? Probably, not very soon. However, awareness about digital assets is spreading, and acceptance is increasing. The good news is that many more people are crypto-curious than those completely disinterested in crypto. This shows that the future is much promising.