The pandemic has certainly disrupted the Events and Awards industry. Though many such events moved to the virtual mode, more Award ceremonies are expected to happen with the world now opening up. If you are keen to nominate yourself or your organization for Awards and recognitions in 2022 and 2023, you should consider the following list.
Also Read: Top five online platforms to crack Govt's Competitive Exams in India 2022
Date: 28-29 July 2022
Status: Applications open (Asia Pacific: June 30, 2022)
The world is shifting from traditional digital transformation (DX) to Digital-First. Starting with analog-to-digital conversion, organizations have now moved to Digital-first. In this environment, digital is a permanent yet dynamic fixture. Any entity looking for a digital-based capacity or innovation that could improve our lives and intended outcomes is considered digital-first.

The website mentions that the award is in its 6th year in the Asia/Pacific, the IDC Future Enterprise Awards continues to redefine DX, aligning its categories and selection criteria to reflect how organizations can successfully bring their businesses into the Future. These are the new benchmarks organizations need to close the new digital gap and become Future Enterprises in our digital-first world, featuring the nine digital-first building blocks.
Some categories to consider
CEO Of The Year
CIO/CDO Of The Year
Future Enterprise Of The Year
Future Of Customer Experience
Future Of Digital Infrastructure 
Future Of Digital Innovation 
Date: 24 February 2023
Status: Applications open (Deadline  – 24 May 2022)
Aegis Graham Bell Awards is a homage to Alexander Graham Bell's eminent innovator. The website mentions that the award was established in 2010 by Aegis School of Business, Data Science, and Cyber Security to celebrate innovators and innovations. The awards is supported by the NITI Aayog, the Government of India (apex public policy think tank of the Government of India), and Skill India (campaign launched by Prime Minister of India, Shri Narendra Modi, the campaign is under the Ministry of Skill Development and Entrepreneurship)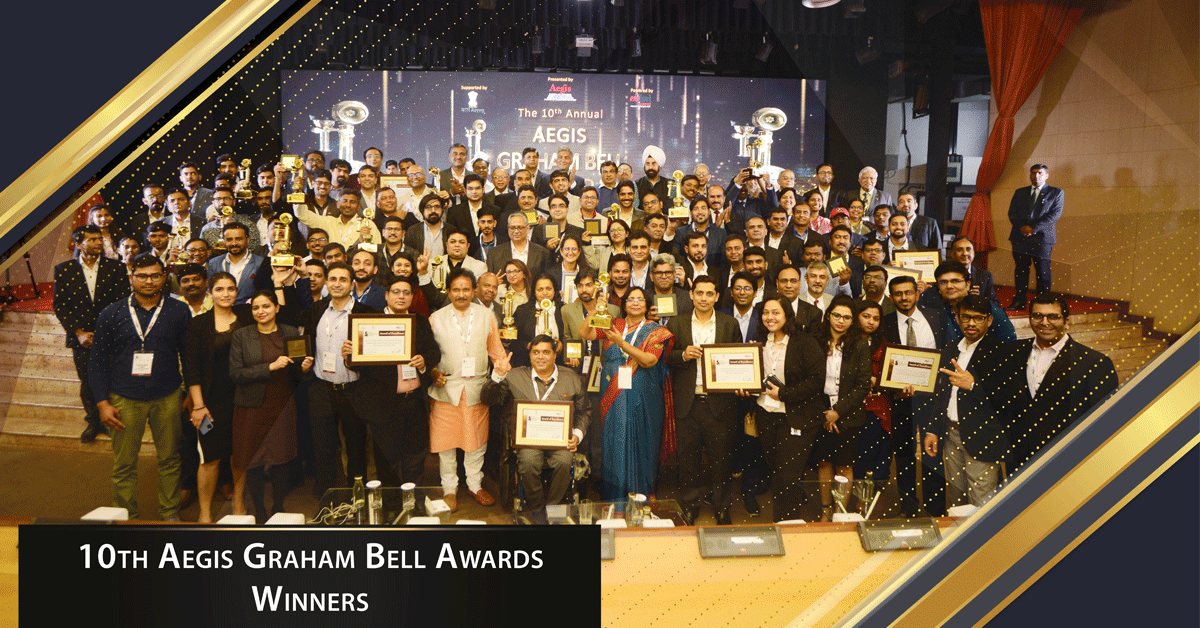 Some categories to consider
Innovation in Artificial Intelligence
Innovation in Digital Transformation
Innovation in Cloud
Innovation in Digital Workspace
Date: 14 – 15 September 2022
Status: Applications open for Nomination
Although Artificial Intelligence has been around for decades, corporations have only recently begun to utilise it on a broad basis. Artificial intelligence (AI) has the potential to revolutionise the way we operate and reshape the world we live in. The GAISA awards recognise and honour the best in the AI ecosystem, including corporations, institutions, and individuals. It's a tribute of thanks and admiration in honour of the world's burgeoning AI talent.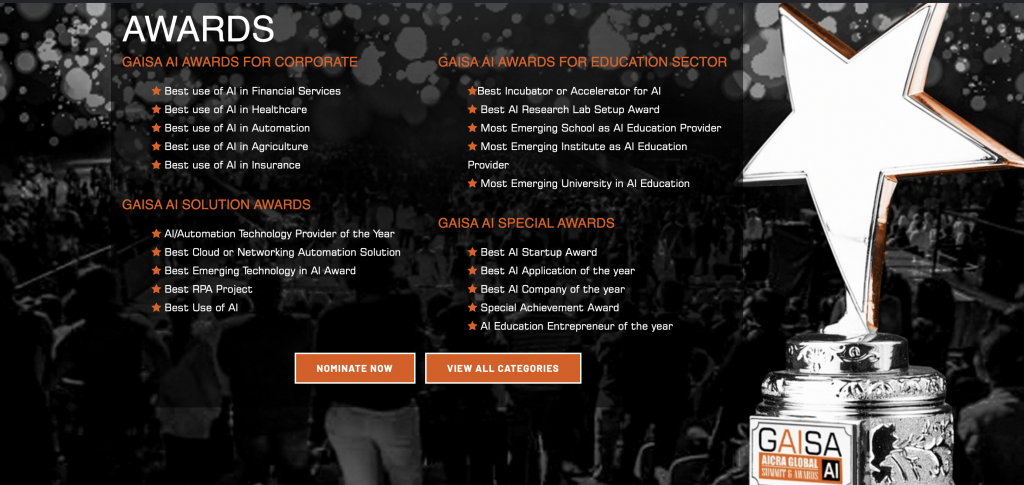 Some categories to consider
Gaisa AI Awards For Corporate
Gaisa AI Awards For Education Sector
Gaisa AI Special Awards
Gaisa AI Solution Awards
Date: January 2023
Status: Applications open for Nomination
40Under40 Data Scientists Awards is the annual initiative from Analytics India Magazine to recognise and appreciate the leading data scientists in India who have successfully transformed data into meaningful insights. The award honours India's young Data Scientists and leaders who are advancing analytics in their organisations, possess strong industry and analytics expertise and are bridging the insights gap for customers by tackling their most challenging problems.
The 2023 nominations for the 40Under40 Awards are open. One can file the nomination here. The nominations are open till November end.
The nominations for 40Under40 can be submitted by:
Individuals
CXOs
Head of Analytics
Internal or external PR representatives
For the 40Under40 award, nominees should be currently serving as Data Scientist and have at least 5 years of experience. 
Date: 28-29 July 2022
Status: Applications open
Entrepreneur Annual Conclave 2022 is the flagship annual event of Entrepreneur Media. It is the final destination for entrepreneurs, investors, disruptors and innovators where they discuss, debate and dissect what the future holds in a vibrant atmosphere.

Some categories to consider
Tech Startup of the Year (Artifical Intelligence / Big Data / Blockchain/ IOT /Security /Machine Learning /Virtual Reality)
On-Demand Delivery Startup of the year
Digital / Online Start-up
Fintech Startup of the Year (Payments / Digital Lending / International Money Transfers/Personal Finance) 
Health Tech Startup of the Year 
Cloud Startup of the Year (orchestration, cloud migration, physical – cloud integration, authentication, security, tools, image management, application packaging, SaaS, PaaS, IaaS, OaaS.)
Gaming app of the year
This Award will recognise businesses that earn 40% or more of their revenue online. You could be an online gaming app
Date: January 2023
Status: Applications open for Nomination, Last date is extended up to – April 30, 2022
The IMC Digital Technology Awards (previously IT Awards) are given to companies headquartered or listed in India. The exception is Awards under Category 4 where the eligibility is only for overseas companies. Companies are eligible to apply for multiple categories too. Participants can Contest for 30 awards across 6 Categories. The awards recognize technological discovery and as well as those organizations sparked growth through digital transformation.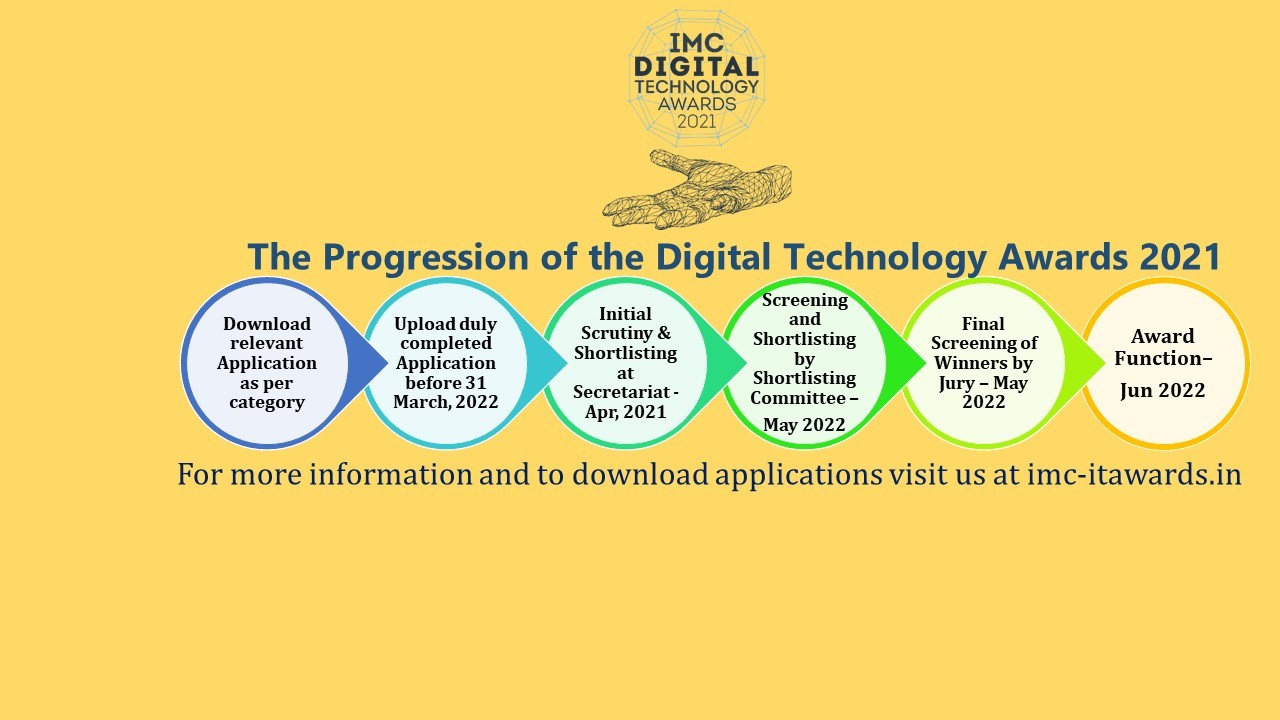 Some categories to consider
Smart Tech Companies
Organisations embracing Digital transformations
Digital Strategy from Govt and PSU