It's April 1, and the first quarter of 2022 is already gone! Despite heavy-duty lobbying and protest, the Indian government will levy a 30% tax on profits from cryptocurrency and Digital Assets from today. Axie Infinity's Ronin Network faced a massive crypto hack, losing over $600M. As per a report released by the UK government, 39% of businesses face a cyber-attack every year. Finally, Google Meet participants can use emojis!
30% Tax to be levied on profits from cryptocurrency, Digital Assets from today
From today, the new crypto tax law imposing a 30% tax rate on income from the transfer of virtual digital assets comes into effect. Also, crypto losses cannot be used to offset gains. Earlier, Nirmala Sitharaman, in the Union Budget 2022, announced that "any income from transfer of any virtual digital asset shall be taxed at the rate of 30 percent." The Lok Sabha also passed the amendments presented in the Finance Bill, 2022, regarding clarification on the taxation of virtual digital assets. The new taxation was protested by the retailers and investors equally, and it was expected that the Government of India might consider some changes.
The new taxation was protested by the retailers and investors equally, and it was expected that some changes might be considered by the Government of India.
Axie Infinity's Ronin Network faces a huge crypto hack; loses over $600M
Media has reported Ronin Network, a key platform powering the popular mobile game Axie Infinity, has had $615m stolen. Hackers stole 173,600 ether tokens and 25.5 million #USD Coin tokens on March 23, according to Ronin, a network that allows cryptocurrency to be transferred across blockchains.
Meanwhile, the company has announced in a blog that Axie Infinity Origin, originally planned to be launched on April 1, has been rescheduled after yesterday's security breach as they needed to reprioritize their efforts. The launch date is delayed by one week.
39% of UK businesses face a cyber attack every year
As per a Cyber Security Breaches Survey 2022 report released by the UK Government, 39% of UK businesses identified a cyberattack, remaining consistent with previous years of the survey.
As per the survey results published:
Of the 39% of UK businesses who identified an attack, the most common threat vector was phishing attempts (83%). Of the 39%, around one in five (21%) identified a more sophisticated attack type such as a denial of service, malware, or ransomware attack. Despite its low prevalence, organisations cited ransomware as a major threat, with 56% of businesses having a policy not to pay ransoms.

Within the group of organisations reporting cyber attacks, 31% of businesses and 26% of charities estimate they were attacked at least once a week. One in five businesses (20%) and charities (19%) say they experienced a negative outcome as a direct consequence of a cyber attack, while one third of businesses (35%) and almost four in ten charities (38%) experienced at least one negative impact.

Incident management policy is limited with only 19% of businesses having a formal incident response plan, while 39% have assigned roles should an incident occur. In contrast, businesses show a clear reactive approach when breaches occur, with 84% of businesses saying they would inform the board, while 73% would make an assessment of the attack.
Instagram introduces new messaging features
Instagram introduced seven new messaging features to help users respond, share, and chat. Following are some of these:
Reply while you browse: Receive a new message while you're browsing your feed? You can now reply without going to your inbox and losing your place. This new feature makes it that much easier and more convenient to chat while on the app.
Quickly send to friends: We want to help people reshare interesting content without interrupting their Instagram experience. By tapping and holding the share button, you can effortlessly reshare posts to your closest friends.
See who's online: At the top of your inbox, you can see who's free to chat at that moment, helping you find serendipitous opportunities to connect with friends.
Finally, Google Meet participants can use emojis
Those who use Google Meet, you can use emojis reactions to let participants know your reaction with 👍 ❤️ 😆. Emojis are an important part of our lives – be it any conversation or channel. Zoom had introduced way back in 2020 when virtual meetings were at their peak because of the pandemic.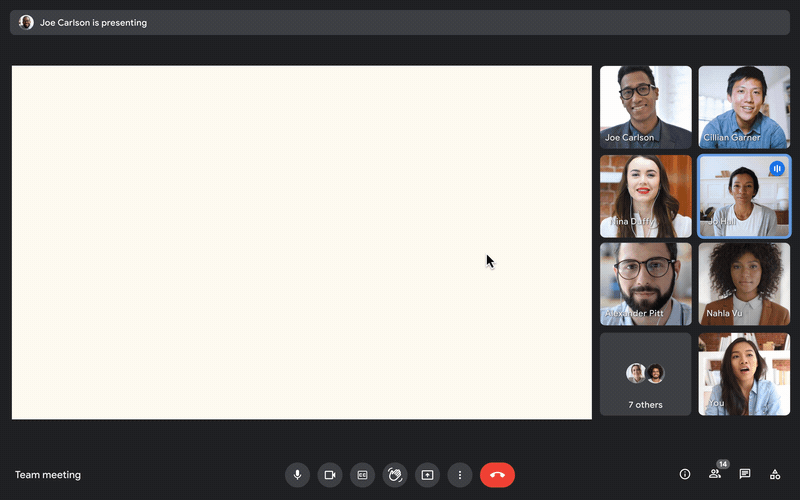 Along with emojis, Google will be bringing Meet directly to Docs, Sheets, and Slides in the coming weeks. Users will be able to quickly start a meeting and bring it to a document, spreadsheet, or presentation, and they can present this content to all the meeting attendees. This enables everyone in the meeting to collaborate in real-time while having a conversation—all from the same tab.
Are you ready to explore Shib Metaverse?
In a new announcement, Shiba Inu informed details of its upcoming Metaverse project and its domain: SHIB.io.


The blog gives the details of the project:
The Metaverse will consist of 100,595 plots of land. Each plot is an exciting opportunity to become part of the immersive Shiba inspired environment.

Some lands will remain locked as they represent key locations for travel within the metaverse and stay private to be used as common grounds. These will represent roads (corridors): Avenues, Boulevards, and Hubs, while public ones will be available for purchase.

While development continues, the progression and guaranteed process to secure plots will begin by releasing a sequence of lands in phases.
During our introductory phase for SHIB: The Metaverse, 36,431 plots of land will become unlocked, while welcoming and revealing a part of 4 different Districts: 🟢Growth District, 🔵Defense District , 🟠Technology District , and the 🟡Currencies District.
Shiba Inu also announced that they are signing a contract with a AAA Game Developer Studio.