As we enter the second half of the year, the crypto market has not yet shown much improvement, making the market cap further plummet. OpenSea users' data leak might lead to phishing attempts, Three Arrows Capital has entered liquidation, 1% TDS on Crypto transfers starts from today, Google announces shutting down of Hangouts – read the details of this news in this edition of Friday Weekly Tech News Wrap-Up.
Crypto market this week
The global cryptocurrency market cap fell to $870 billion, decreasing more than 2 per cent over the day while Bitcoin price continues to remain under $20,000.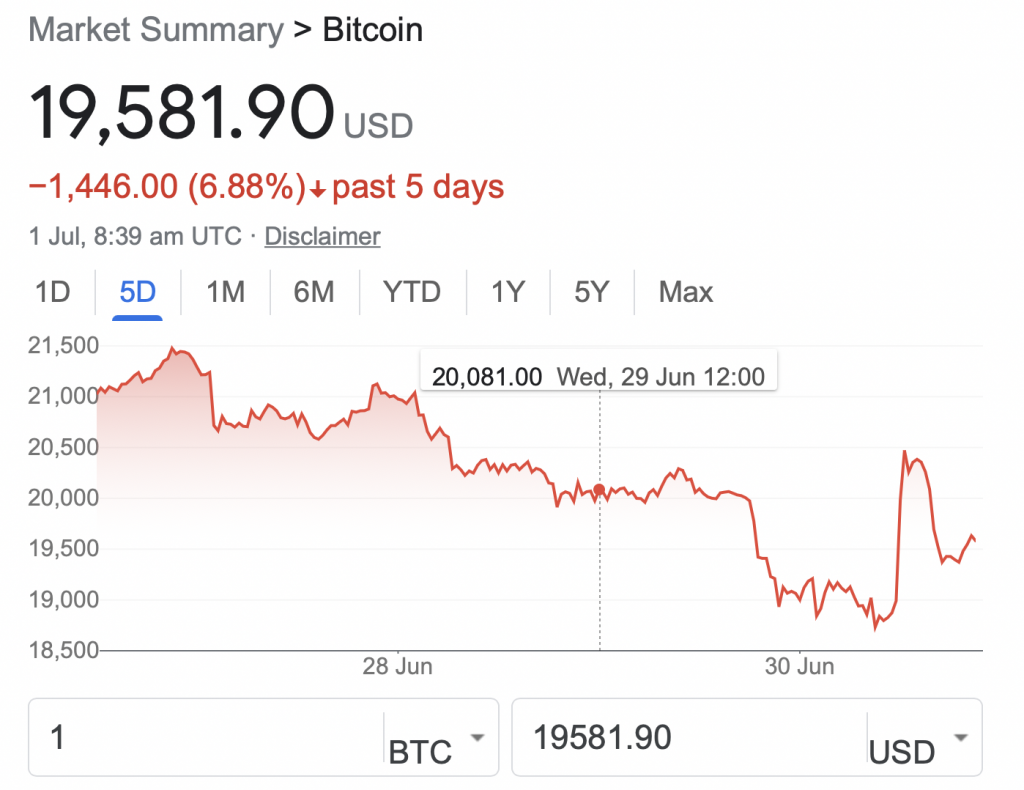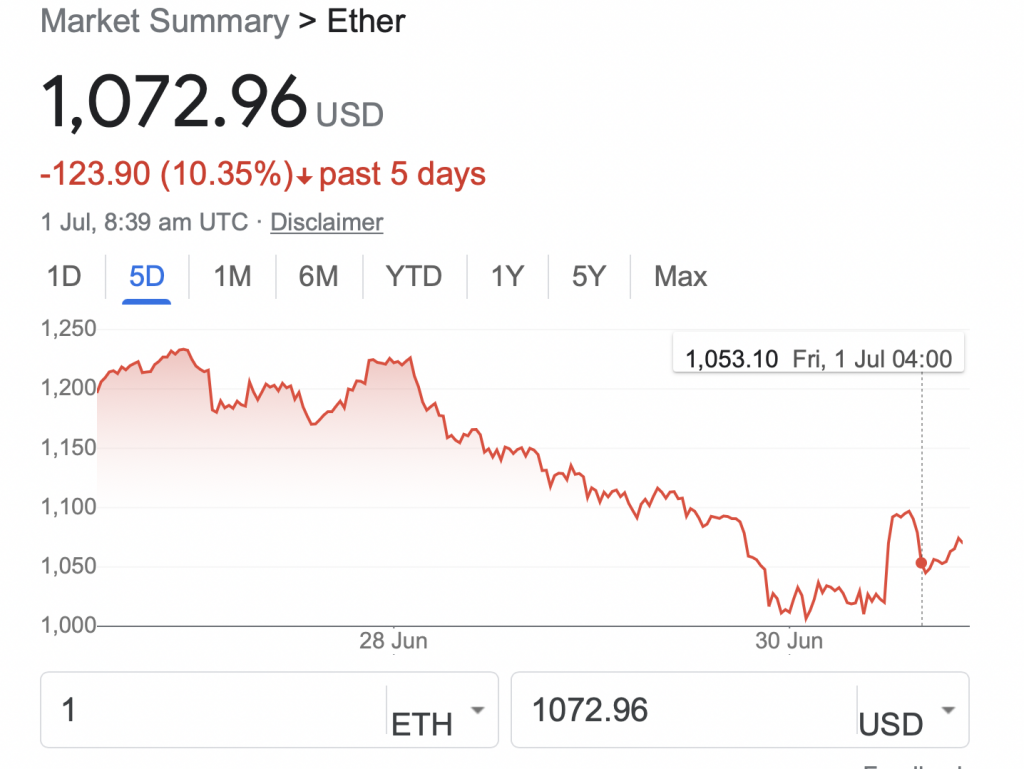 The tremor of the crypto crash could be felt in the market. Singapore-based crypto hedge fund Three Arrows Capital (3AC) has reportedly entered liquidation. A court in the British Virgin Islands has issued an order after creditors sued the hedge fund for its inability to repay debts amid a broad decline in cryptocurrency markets. This was largely because of the collapse of Terra-USD – Luna stablecoins in May 2022.
It has been reported that 3AC had pursued an aggressive trading strategy that included placing highly leveraged bets on various cryptocurrencies. It defaulted a nearly $700 million loan from Voyager Digital which issued a notice of default. 3AC's partner, Kyber Network, may also face the charges.
1% TDS on Crypto transfers starts from today
The government would levy 1% TDS on all crypto transfers. A transaction will not be subject to TDS if the total trade value doesn't exceed ₹10,000 in the said financial year (2022-23). The Central Board of Direct Taxes (CBDT) released detailed guidelines last week clarifying some of the doubts raised by the crypto investors and the people in general. Finance Minister Nirmala Sitharaman announced a 30 per cent tax rate and 1 per cent TDS for gains made from virtual assets and transfers in the Budget earlier this year.
More detail on this topic and answers by the experts.
OpenSea users' data leaked, warns users of phishing attempts
The leading NFT Marketplace, OpenSea, has informed an employee of their email delivery vendor, Customer.io, has shared email addresses provided by OpenSea users and subscribers to its newsletter with an unauthorized external party.
This is the second time the NFT Marketplace has seen such an incident. In February 2022, attackers stole hundreds of NFTs from OpenSea users, causing a late-night panic among the site's broad user base.
The company in a blog has shared some safety recommendations
Be cautious of phishing emails from addresses trying to impersonate OpenSea. OpenSea will ONLY send you emails from the domain: 'opensea.io.' Please do not engage with any email claiming to be from OpenSea that does not come from this email domain.
Never download anything from an OpenSea email. Authentic OpenSea emails do not include attachments or requests to download anything.
Check the URL of any page linked in an OpenSea email. We will only include hyperlinks to 'email.opensea.io.' URLs. Make sure that 'opensea.io' is spelled correctly, as it's common for malicious actors to impersonate URLs by shuffling letters.
NEVER share or confirm your passwords or secret wallet phrases. OpenSea will never prompt you to do this – in any format.
NEVER sign a wallet transaction prompted directly from an email. OpenSea emails will never contain links which directly prompt you to sign a wallet transaction. Never sign a wallet transaction that doesn't list the origin of https://opensea.io if you were led there by email.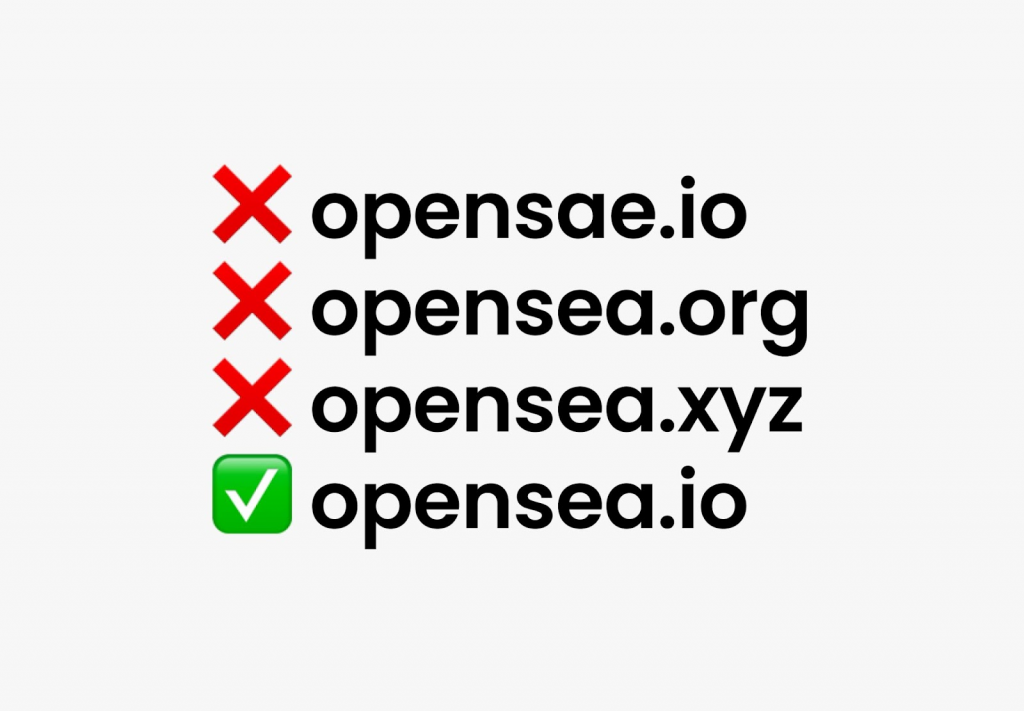 Polygon launches blockchain scaling solution 'Avail'
Avail is a modular blockchain built to scale other blockchains. Avail is an efficient, scalable data availability layer that other chains can plug into so they can focus on the layers they do best. And it is now launching on a testnet.
Avail provides a leap in scalability for the entire Web3 space. In the modular world, rollups and data availability layers empower the Ethereum ecosystem to scale like never before. Avail embodies our belief that a modular approach to blockchain design is what will bring Web3 to the masses.
Avail works by storing transaction data from any other blockchain and proving that the transaction data it holds is available. It's capable of supporting the storage needs of hundreds of blockchains at once because it is optimized to perform just this function.
Molecule raised $12.7 Million in Seed Funding to Build the Future of Decentralized Science and Biotech
Molecule, a decentralized biotech protocol building a web3 marketplace for research-related IP, announce it has raised $12.7M in seed funding. Led by Northpond Ventures, this funding will help create an open ecosystem that assists researchers in raising funds for impactful research projects in a community-driven way.
In an announcement, it further said:
With Molecule, diverse communities (including patient groups, researchers, charities, VCs and pharma companies) can fund, own and govern therapeutic intellectual property. This provides novel incentives for collaboration, investment, and risk-sharing. The result is that communities, such as patient groups, can choose which projects get funded, and later own the therapeutics that treat their disease.
Moving from Hangouts to Chat – Google announces shutting down of Hangouts
In a recent announcement, Google said that people using Hangouts on mobile will see an in-app screen asking them to move to Chat in Gmail or the Chat app. Similarly, people who use the Hangouts Chrome extension will be asked to move to Chat on the web or install the Chat web app. In July, people who use Hangouts in Gmail on the web will be upgraded to Chat in Gmail.
While we encourage everyone to make the switch to Chat, Hangouts on the web will continue to be available until later this year. Users will see an in-product notice at least a month before Hangouts on the web starts redirecting to Chat on the web.
For most people, conversations are automatically migrated from Hangouts to Chat, so it's easy to pick up where you left off. However, we encourage users who wish to keep a copy of their Hangouts data to use Google Takeout to download their data before Hangouts is no longer available in November 2022 by following these instructions. You can visit the Help Center for more information on the differences between Chat and Hangouts, the migration timelines, and why we recommend downloading your Hangouts data.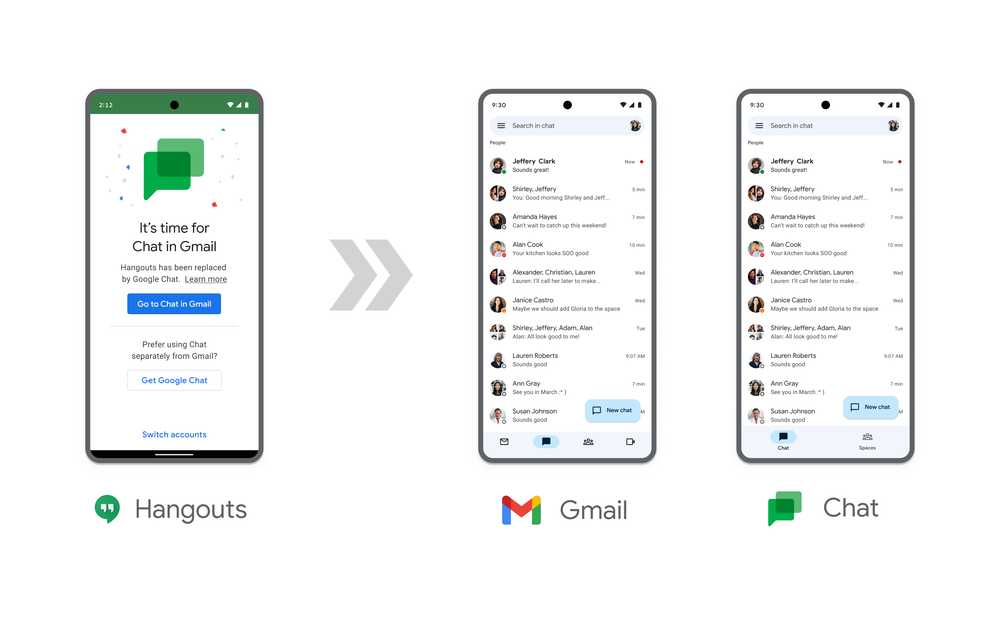 Advantages of Chat
Google Chat will have better features, such as the options to edit Docs, Slides or Sheets with side-by-side editing.
Google Chat also includes Spaces, a dedicated place for topic-based collaboration. Groups and teams can share ideas, work on documents, and manage files and tasks, all from a single location.
The new integrated view in Gmail makes it easier to use Chat alongside your Gmail inbox, Spaces, and Meet.