The United States crypto landscape has witnessed a whirlwind of activity in recent times, encompassing both positive and negative developments. On the positive side, BlackRock's filing for Bitcoin Exchange-Traded Fund (ETF) has brought optimism to the market. However, regulatory discussions surrounding the Securities and Exchange Commission (SEC) and concerns regarding the operations of exchanges like Binance have created a sense of uncertainty. In this context, Coinbase's recently released report on web3 adoption 'The State of Crypto: Corporate Adoption' provides a much-needed breath of relief.
Published by Coinbase, the survey covered >100 Fortune 500 executives at the level of director and higher, who are aware of crypto and blockchain, from May 26 to June 1, 2023. The findings of the report are also based on an analysis of web3 initiative activity by Fortune 100 companies from Q1 2020 to Q2 (early June) 2023 by The Block Pro Research, the digital assets market research and data division of The Block.
Adoption snapshot
The rapid adoption of cryptocurrencies, blockchain, and web3 technologies by corporate America has become a defining trend in recent years. According to a research report, more than half (52%) of the Fortune 100 companies have pursued these innovative initiatives since the start of 2020.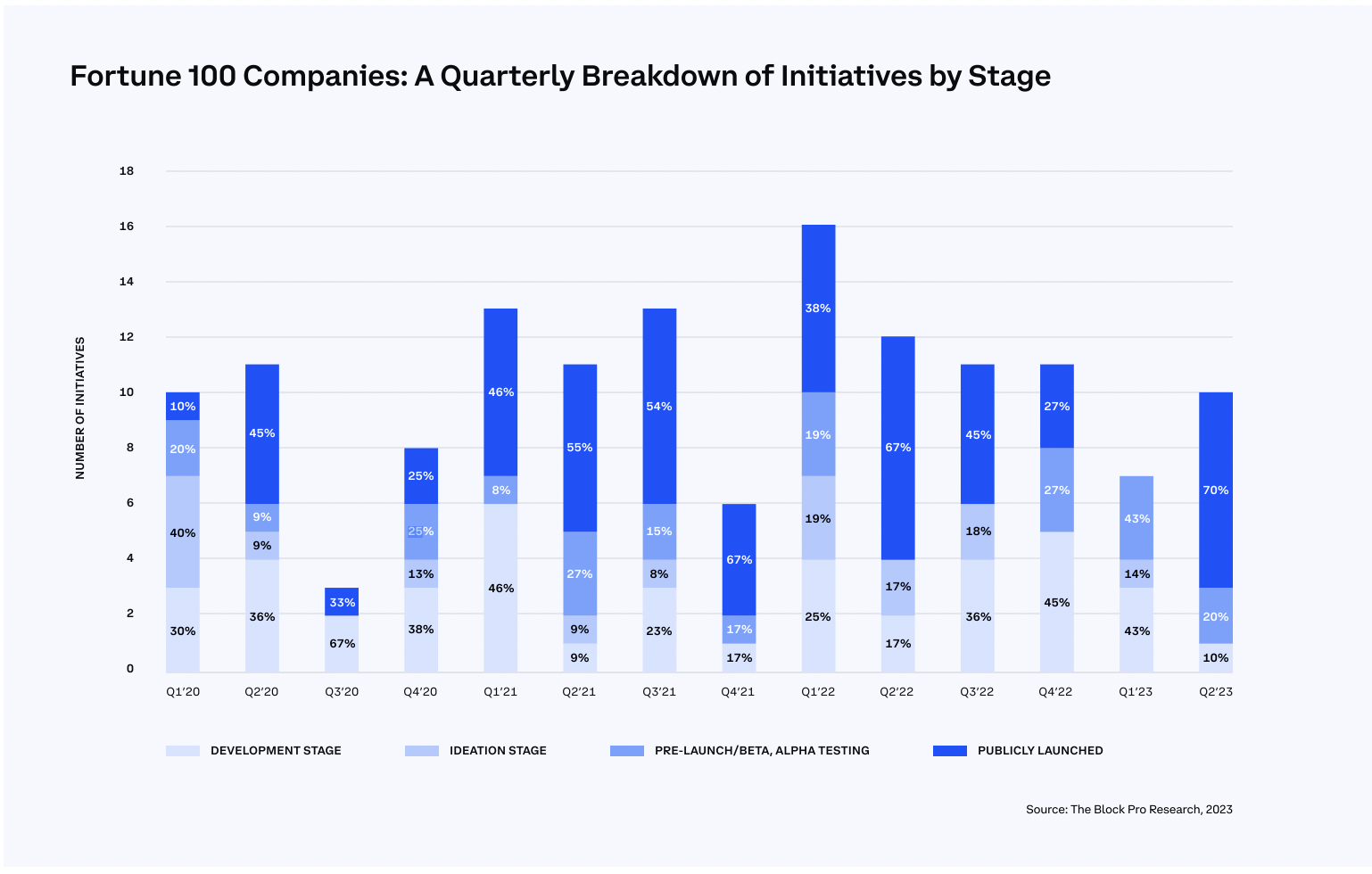 The report highlights that companies across various industries, including technology, financial services, and retail, have embraced web3 technologies, recognizing the need to update the century-old global financial system. By investing in blockchain and other web3 solutions, these companies aim to stay ahead of the competition and leverage the efficiencies offered by these transformative technologies. The Fortune 500 executives surveyed revealed that investing in cryptocurrencies and blockchain is seen as a crucial factor in maintaining a competitive edge.
As per the report:
Concern about staying ahead of the competition is significant motivation (64%); meeting consumers' expectations is a secondary concern (45%)
55% say they're working on crypto, blockchain or web3 initiatives because the technology enables efficiencies for their company
Their own top sources for learning about these technologies are industry reports (63%) and industry events (62%), followed by news coverage (49%)
Many Fortune 500 executives note that web3 is critical to their companies' survival and growth, that business is moving in this direction, and that they don't want to be left behind. Executives focusing web3 efforts on global supply management and inventory control also note that the world needs to function as a single entity and that web3-based technologies will greatly facilitate.
The report mentions the top 10 Fortune 100 brands in volume of web3 initiatives are: 1)IBM(18); 2) Alphabet (11); 3) Microsoft (11); 4) Goldman Sachs (10); 5) JP Morgan Chase (9); 6) Amazon (6); 7) Citigroup (6); 8) Coca Cola (5); 9) Nike (5); and, 10) Bank of America (5).
Trends in investment
Fortune 100 companies have actively engaged in the crypto space, demonstrating their confidence by making a remarkable 109 private venture capital investments across 80 crypto blockchain startups since 2017. These investments have amounted to an astonishing total of over $8 billion, reflecting the immense financial commitment and belief in the future of this innovative technology. Moreover, the average budget allocated by Fortune 500 companies for their initiatives and projects in 2023 stands at a substantial $5.8 million, highlighting their dedication to embracing the transformative potential of crypto and blockchain.
A survey conducted among crypto/blockchain-aware Fortune 500 executives reveals an optimistic outlook for the future. A significant percentage (60%) anticipates their competitors to increase investment in the next two years, while a similar proportion (57%) expects their own company's investment to grow during the same period. This positive sentiment reflects the industry's recognition of the long-term value and profitability that can be attained through strategic involvement in crypto and blockchain technologies.
At the core of corporate innovation lies blockchain technology, which serves as a catalyst for transformation across various sectors. One prominent use case centers around data collection and management, both for customer-related information and internal operations. Among the Fortune 500 companies surveyed, an overwhelming 77% of executives concur that blockchain has the potential to enhance the functionality of the financial system for the benefit of all stakeholders. Notably, within the Fortune 100 tech brands, web3 initiatives have predominantly focused on infrastructure development, followed closely by advancements in supply chain management and data collection/management processes.
However, the lack of clear regulatory frameworks for crypto, blockchain, and web3 technologies poses a significant hurdle to widespread adoption and investment. This absence of well-defined rules not only hinders progress but also poses a perceived challenge to the United States' position as a leader in the global financial system. An overwhelming 87% of surveyed Fortune 500 executives emphasize the importance of clear rules to sustain and safeguard the industry's growth. Furthermore, a resounding 92% believe that policymakers should actively develop new regulations tailored to these emerging technologies, rather than enforcing outdated rules designed for earlier generations of technology. Addressing this regulatory gap will not only foster investor confidence but also strengthen the United States' position as a global hub for crypto and blockchain innovation.
Trends in innovation
The utilization of blockchain as a foundational framework is a catalyst for groundbreaking advancements and ambitious pursuits in the realm of Web3, captivating both Fortune 100 and Fortune 500 enterprises.
Among the Fortune 500 companies engaged in ongoing or forthcoming initiatives, the primary driving forces behind their pursuit of Web3 are the implementation of blockchain infrastructure (52%), efficient management of data collection for both internal operations and customer interactions (51%), and streamlined payment and settlement systems (48%). This aligns harmoniously with the overwhelming consensus of 77% of these companies, who believe that blockchain has the potential to enhance the functionality of the financial system, benefiting society as a whole.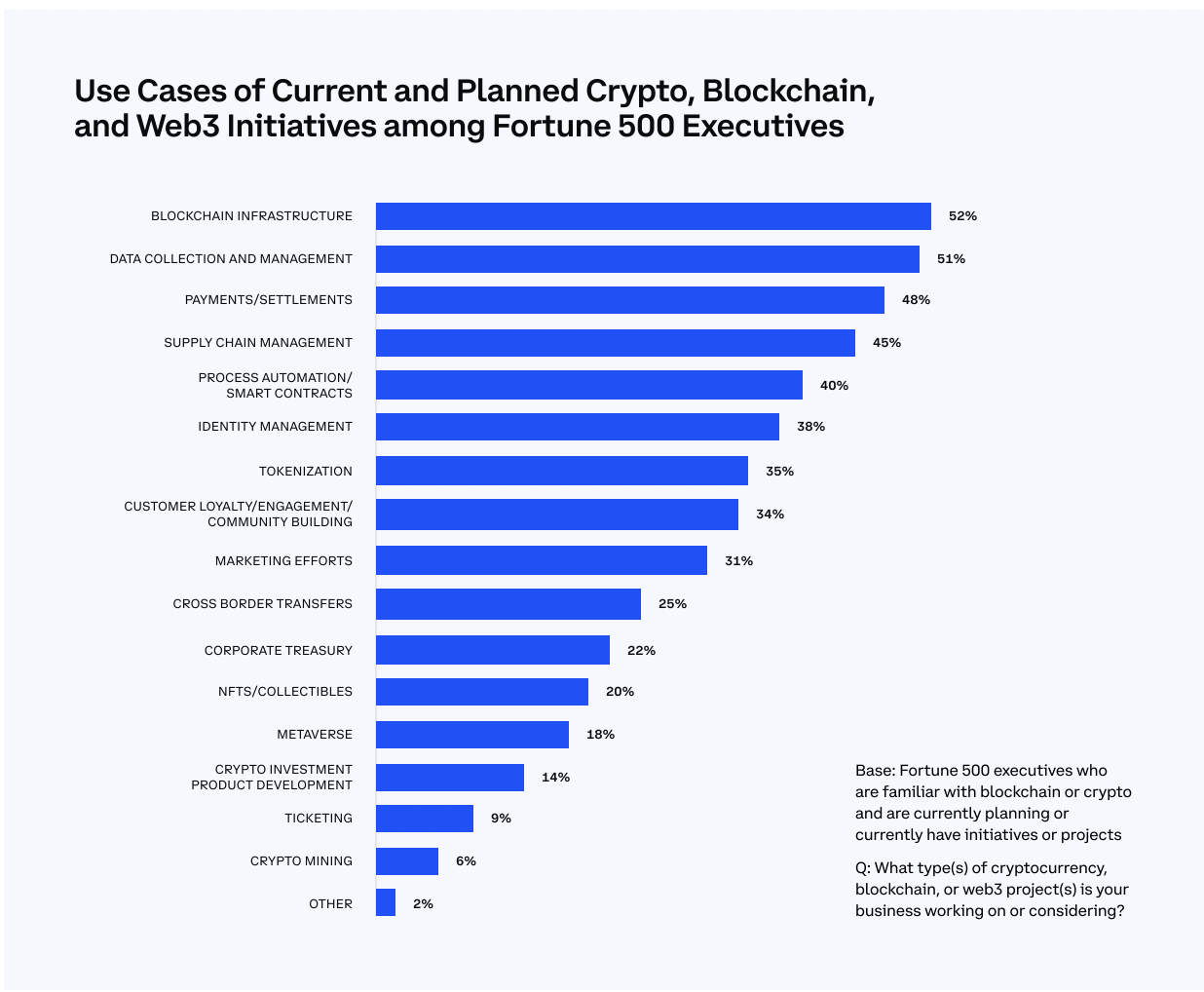 The prominent use cases identified among the Fortune 100 companies echo those of their Fortune 500 counterparts, encompassing blockchain infrastructure, comprehensive data collection and management, as well as efficient supply chain management. Notably, data collection and management emerge not only as a top priority among the Fortune 500, but also as the focal point for numerous forthcoming initiatives, emphasizing its critical significance.
Within the domain of financial services, endeavors predominantly gravitate towards the facilitation of seamless payments, closely followed by the development of crypto trading products such as exchange-traded funds and retail trading solutions, along with the practice of tokenization.
Opportunities to expand adoption
To expand crypto, blockchain, and other web3 technology adoption across the Fortune 100 and Fortune 500, the following strategies can be considered:
Addressing Barriers: Companies need to overcome internal understanding gaps by educating executives about web3/blockchain use cases and the technology itself. Demonstrating clear return on investment (ROI) through successful case studies can alleviate concerns. While consumer interest is important, the focus should be on leveraging blockchain to stay ahead of competition rather than relying solely on consumer demand.
Partnering for Talent Development: Collaborating with developer communities and colleges can help educate and train skilled talent in blockchain technology. This will address the lack of trusted talent with the right skills. By fostering a robust talent pipeline, companies can ensure on-shore innovation and avoid losing ground to other regions.
Regulatory Clarity: Encouraging policymakers to establish clear regulations specific to crypto, blockchain, and web3 technologies is crucial. Uncertainty surrounding regulations hampers adoption. By advocating for new rules that suit these emerging technologies, companies can gain confidence and make informed investment decisions.
Education and Investment: Educating corporations and consumers about the benefits of investing in crypto, blockchain, and web3 technologies is important. Highlighting successful use cases like NFTs can generate interest and build demand. Promoting the potential for job creation in the blockchain industry can also attract investment and talent.
Despite challenges like market corrections and regulatory concerns, the pace of crypto adoption remains strong. Companies should monitor global trends and frameworks established by other countries while advocating for favorable regulations in the US. By focusing on long-term opportunities, top corporations can position themselves competitively in the evolving landscape of web3 technologies.
Leading by Examples
The report highlights several notable companies that are actively involved in Web3 and blockchain initiatives across various sectors. For instance, JPMorgan Chase conducted a successful DeFi transaction on the Ethereum layer-2 network Polygon, demonstrating the application of tokenized assets and DeFi protocols in traditional finance. ExxonMobil partnered with Crusoe Energy Systems to power bitcoin mining with excess natural gas, fostering collaboration between the energy sector and blockchain industries. Lowe's implemented "Project Unlock" by leveraging blockchain technology to combat organized crime, assigning NFTs to power tools as a means to deter theft and support law enforcement efforts.
Additionally, Goldman Sachs, Microsoft, Deloitte, and other financial institutions collaborated with Digital Asset to launch the Canton Network, a tailored blockchain platform addressing challenges faced by financial institutions while ensuring compliance. Lastly, Nike and EA Sports integrated apparel NFTs into future video games through Nike's .Swoosh marketplace, exemplifying the integration of NFTs and the metaverse. These initiatives collectively illustrate the growing adoption of blockchain technology across diverse sectors.