As the crypto market begins to show signs of a decisive uptrend following a difficult bear market, it appears that the crypto winter is finally coming to an end. The market, which has been characterized by a sharp fall in prices and extremely bearish investor sentiment, is now showing signs of stabilization and growth.
For those unfamiliar with the term, a crypto winter refers to a period in which the prices of all cryptocurrencies fall sharply and investor sentiment is extremely bearish. This typically occurs after a period of extreme euphoria and exuberance in the markets, where the prices of Bitcoin and other cryptocurrencies have risen to an unsustainable level. The current price drop can be attributed to both the macroeconomic environment and bad practices made by some institutions and protocols.
One key indicator of this stabilization is the recent rally in Bitcoin and other cryptocurrencies. The rally, which lifted the broader market, is a major positive development and likely signals the end of the crypto winter. In fact, Bitcoin is currently trading at over $23,000, which is significantly higher than its 21-day moving average of $18,600. This rally leaves BTC right where it was before the FTX collapse caused a market-wide pullback. While the asset could face resistance here, it bodes well for price action moving forward if it can break through.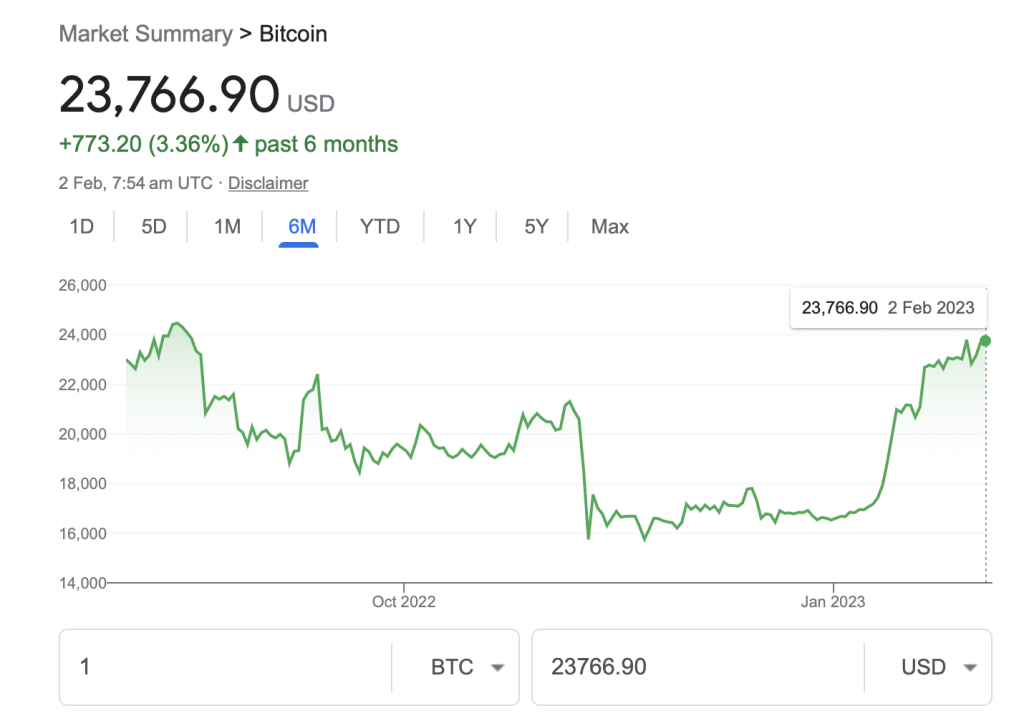 Another indicator of the end of the crypto winter is the explosive growth of Ethereum layer-2 networks. According to recent data published in CoinTelegraph, the leading layer-2 networks have seen a significant increase in daily active users, which has translated into growth in fees for the respective ecosystems. For example, Polygon currently has 313,457 daily active users, a metric that spiked to over 600,000 earlier in January. This represents a 30% increase in activity since the beginning of October, resulting in nearly $55,000 worth of daily fees for Polygon. Optimism has seen even faster growth, with a 190% gain in daily active users over the past three months, resulting in daily network fees of $119,475.
Another important aspect is funding in the crypto market. In recent months, funding from venture capital firms has been on the rise, with a number of firms investing in crypto-related startups. This is a positive development, as it indicates that investors are becoming more comfortable with the concept of digital currencies and are willing to put their money into the crypto market. Additionally, major companies like Tesla, Square and PayPal have also invested in Bitcoin, which is a clear indication that the crypto market is attracting mainstream investors.
Despite a cooling of investor interest in the Web3 space towards the end of 2022, funding for VC-backed startups in this area remained strong. According to Crunchbase, funding for Web3 startups fell by about a fourth from a record high of $29.2 billion in 2021 to about $21.5 billion last year, which is not uncommon considering the global venture capital spending pullback and investors turning towards more mature industries.
However, it is important to note that funding for Web3 startups continued and investors continued to show trust in these companies. For example, Brooklyn-based blockchain startup ConsenSys secured a $450 million round at a valuation of over $7 billion in 2022, led by ParaFi Capital, just four months after its $200 million Series C. ConsenSys develops decentralized protocols software that runs on the Ethereum network and allows developers and enterprises to build on Web3.
Similarly, India-based Polygon Technology, a scaling platform for the Ethereum blockchain, closed a $450 million round led by Sequoia Capital India in February at a reported $13 billion valuation. Miami-based Yuga Labs also closed a $450 million "seed" round led by a16z crypto, valuing the company at $4 billion in March. Yuga Labs is best known for its Bored Ape Yacht Club NFT collection.
This is all to say, even though the crypto market went through a downturn, the investors are still showing trust in the Web3 startups and the funding continued. This is a positive sign for the future of the Web3 space, as it indicates that investors are confident in the potential of these companies and technologies.
It is worth noting that the last crypto winter in 2018 saw investors who bought Bitcoin experience 20x returns, with Ethereum rising 54x and Cardano skyrocketing 102x at the peak time. Unfortunately, many investors were too scared to invest in crypto at the time and missed out on these opportunities. However, the current market offers a promising outlook for those who are willing to invest in the crypto market now.
In conclusion, the crypto market is showing signs of stabilization and growth, indicating that the crypto winter is finally coming to an end. The funding and investment in the crypto market also indicate a positive trend in the market. While there are still challenges to navigate, the positive developments and growth in the market offer a promising outlook for the future. It is worth noting that, even though crypto winter is over, it may still take some time before the next bull run materializes. However, the current rally offers greater security for crypto prices that were previously beaten down by negative sentiment, and it will be interesting to see how the market develops over the next few weeks.