Bitcoin price is above $24,000, up by 3.85% over the past five days, Ether is at $1905, an increase of 12%, and the global crypto market cap is $1.15T. According to the UN, over 7% of the Indian population owns the digital currency. A report further stated that comprehensive crypto regulation is required in developing countries—this and more news in this edition of Weekly Friday tech News Wrap-up. 
Crypto market this week
Bitcoin price is at above $24,000, up by 3.85% over the past five days, Ether is at $1905, an increase of 12%, as Ethereum gets closer to its eagerly anticipated software upgrade, which is predicted to speed up transactions and make it more energy-efficient, price has seen such an increase. Media reports American businessman Anthony Scaramucci predicted that Bitcoin's price would eventually soar to $300,000. According to Scaramucci, it wouldn't matter if one purchased the cryptocurrency for $20,000 or $60,000 at this point. Within the next six years, according to Scaramucci, the flagship cryptocurrency will be able to attain the incredibly high price estimate.
The global crypto market cap is $1.15T.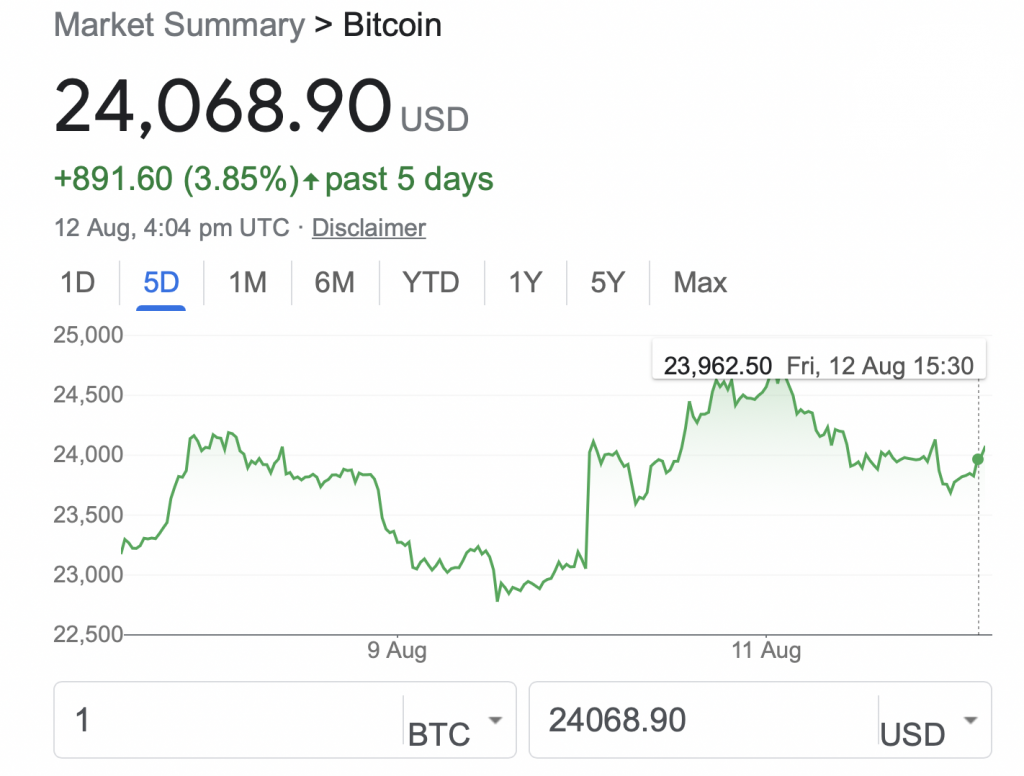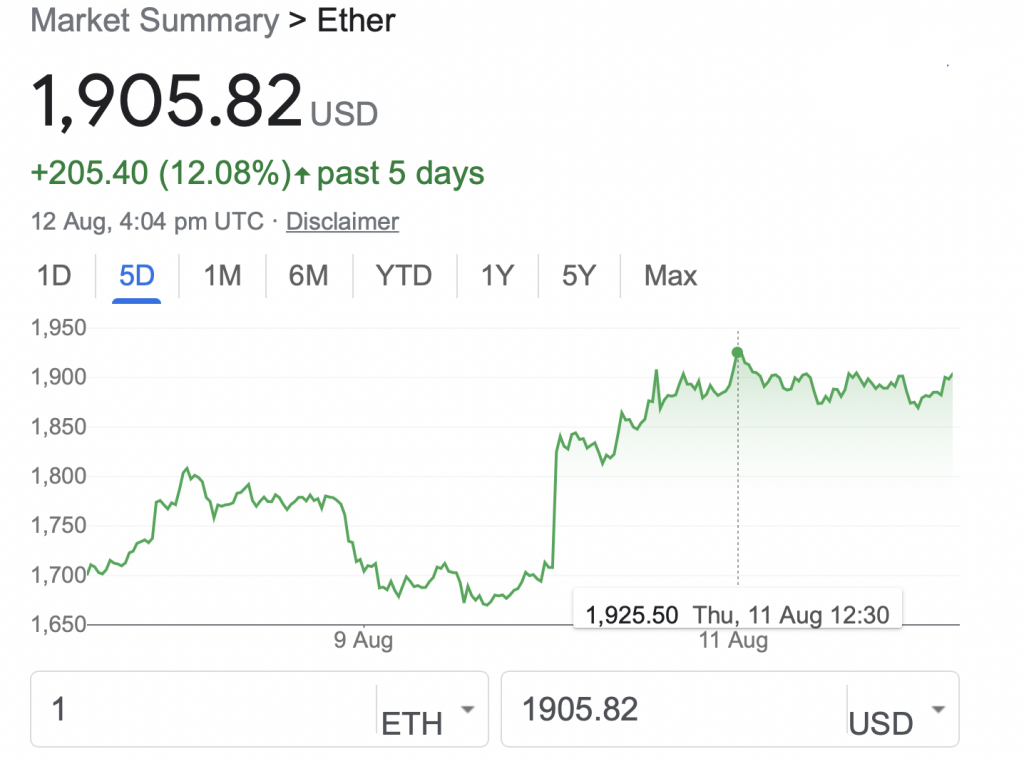 7.3% of Indian population owned digital currency; ranks 7th worldwide: UN
According to the UN, over 7% of the Indian population owns the digital currency. As per the report, developing countries will account for 15 of the top 20 economies in terms of the share of the population that owns cryptocurrencies in 2021. The countries that topped the ranking according to the UN report on digital currency are Ukraine (12.7%), which is followed by Venezuela (10.3%), Singapore (9.4%), Kenya (8.5%) and the US (8.3%).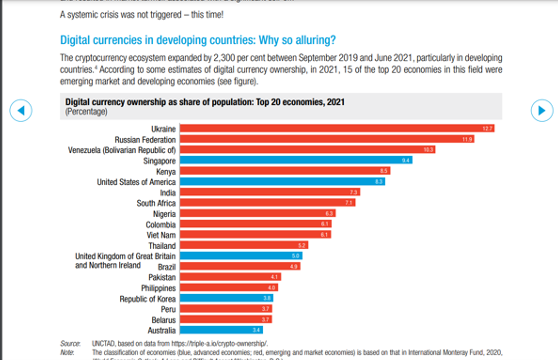 According to the policy brief report captioned as 'All that glitters is not gold, pointed out that "there are two main reasons for the increased use of cryptocurrencies in developing countries during the pandemic. First, the use of cryptocurrencies was an attractive channel, in terms of price and speed, through which to send remittances.
During the pandemic, the already high costs of traditional remittance services rose even higher during lockdown periods due to related disruptions. Second, cryptocurrencies, as part of financial investments and speculation, are mainly held by middle-income individuals in developing countries and, particularly in countries facing currency depreciation and rising inflation (triggered or accentuated by the COVID-19 crisis), cryptocurrencies have been perceived as a way to protect household savings."
Comprehensive crypto regulation is required in developing countries: UN
The UNCTD provided a brief report on 10th August in which it stated that unrestricted adoption of virtual currency had presented a danger and threat in developing countries. 
According to the report, the concerns and fears about cryptocurrencies are related to the privacy and security, resource management and economic stability of the developing countries' monetary models.
According to the report, recent market developments have shown that cryptocurrencies, particularly stablecoins, have the potential to threaten the financial stability of emerging economies.
Ultimate DeFi platform raises Eur 12.5m Series A round led by Lightspeed Venture Partners
Ultimate, the first product developed and launched by Berlin-based Unstoppable Finance, has announced a EUR 12.5m Series A funding round led by Lightspeed Venture Partners to launch and scale its Decentralized Finance wallet & investing platform.
The Series A funding was led by Lightspeed Venture Partners. It has existing investors like Speedinvest, Rockaway Blockchain Fund, Backed, Inflection, Discovery Ventures, Fabric Ventures and the newly added Anagram.
CoinSwitch establishes Web 3.0 Discovery Fund to support early stage startups
CoinSwitch, a leading Indian crypto exchange, has announced that it will launch its Web 3.0 Discovery fund, a company corporate venture. The company is planning to utilize the fund in investing in the early-stage start-ups developing blockchain solutions for the web 3.0 platform.
The Co-founder and CEO of CoinSwitch, Ashish Singhal, said, "The venture program is a result of our belief that India can be the launchpad for population-scale Web3.0 projects. To realise this vision of #MadeinIndia Web3.0, we have to identify and enable entrepreneurs and early-stage startups leveraging the potential of cryptocurrency to solve real-world problems unique to India."
The mission of the company is to 'Make Money Equal for All', and it wants to build an ecosystem which makes cryptocurrency easy to use.
Tezos India launches Art and Culture vertical
Tezos India has recently announced a separate vertical for arts and culture-centric programmes and initiatives called Tezos India arts and culture (TIAC).
TIAC wants to develop and run an artist fellowship programme of selected artists from the orientation and training phase to enable the development of bigger projects within the ecosystem.
Varun Desai, Head of India arts and culture, pointed out by saying, "There has been a rich history of artists starting off on Tezos and then becoming globally renowned. We see this as an opportunity for artists to mint NFTs with a very low economic barrier of entry and also with no major issues related to carbon footprint, as Tezos emits 2.5 g CO2 eq. per transaction, which is significantly less than that of an email."