The first week of the beginning of the second half of the year. The crypto market continues to be bearish, though some currencies have shown price improvement. Bitcoin is at $21,635.80, 12.15% up over the past five days and the price of Ethereum at $1,226.68, an increase of 14.34%. The global crypto market cap is $953.82B. Many crypto companies are in trouble.
Crypto Market this week
The price of some coins has shown some improvements – Bitcoin being above $20,000, $21,635.80, 12.15% up over the past 5 days and the price of Ethereum at $1,226.68, an increase of 14.34%. The global crypto market cap is $953.82B,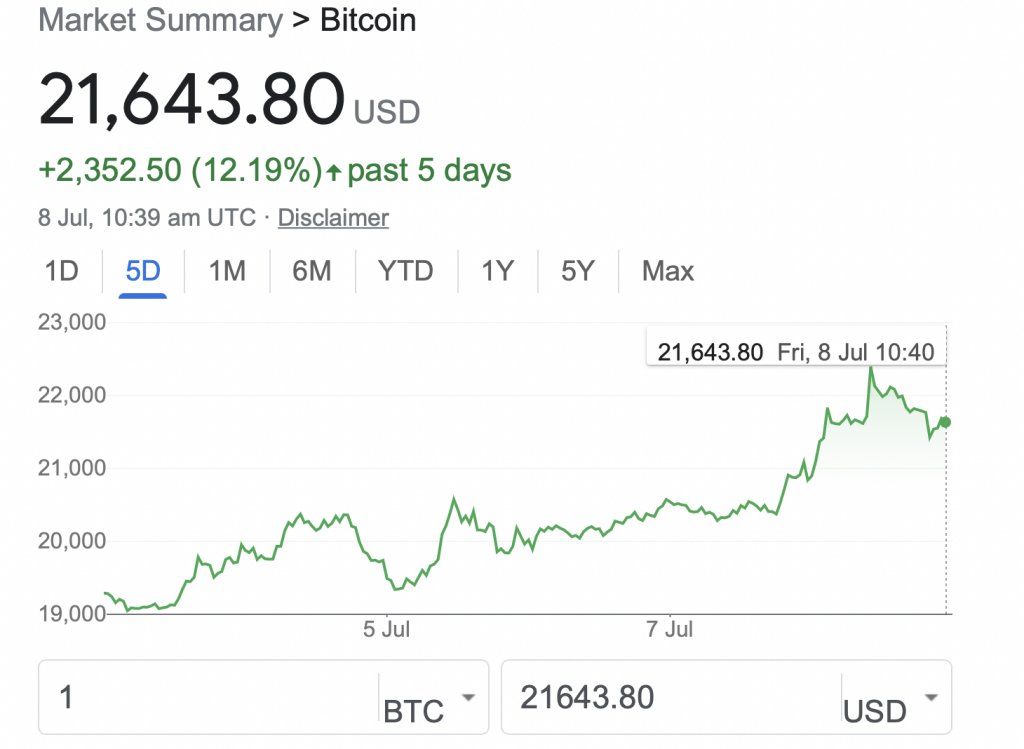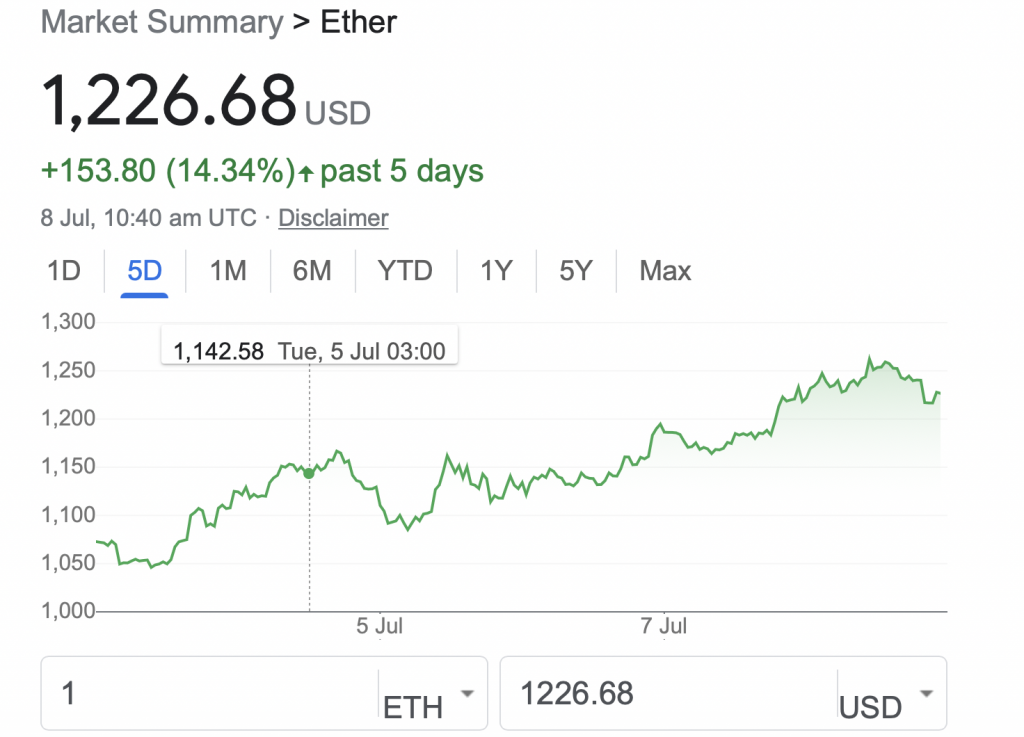 Other altcoins like Cardano, Solana, etc. have been trading inside a recovery curve. Other coins like Terra Classic LUNC and Shina Inu are trending at this point in time.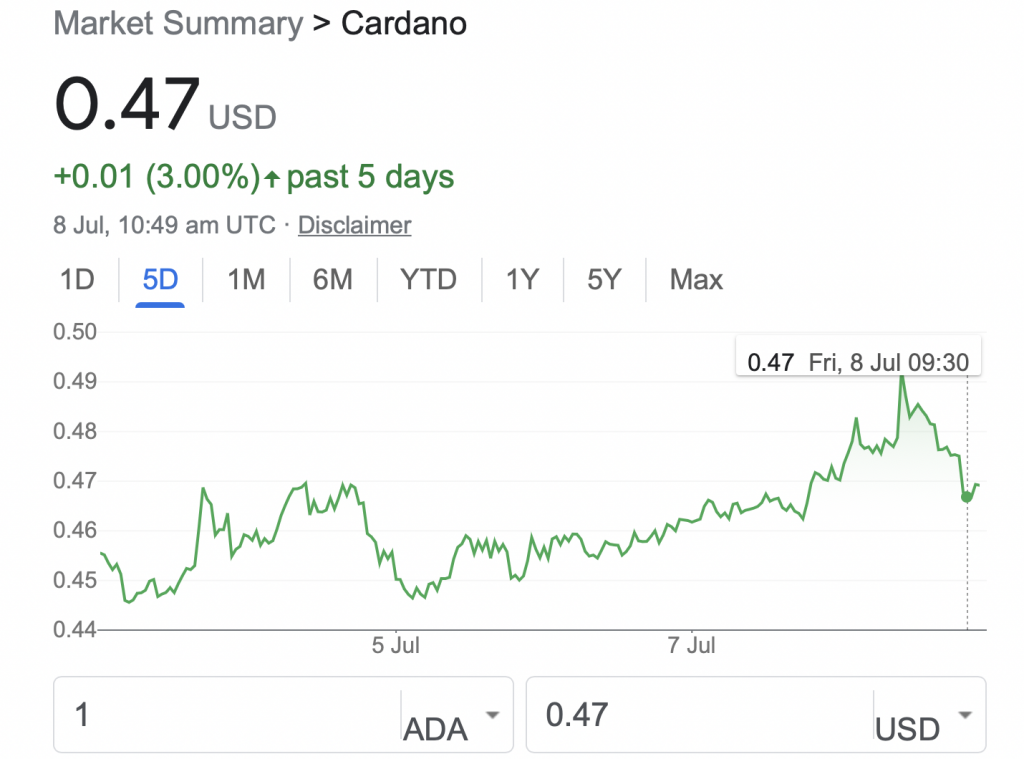 However, all is not so good in this bear market. Three companies – Three Arrows Capital (3AC), Celcius, and the Voyager are in trouble. The Singapore-based crypto firm Vauld suspended all its transactions on 4 July, leaving investors stranded.
Media has reported that yield farming pioneer Jason Stone, the CEO of KeyFi,  has filed a lawsuit against the ailing crypto lender Celsius. Stone's legal team claims that Celsius has failed to honor contracts and has asked a branch of the US, New York Supreme Court to compensate him for an amount that would "be determined at trial." The filing claims that Celsius made use of customer funds in a bid to "manipulate cryptoasset markets," and alleges that Celsius "failed to institute basic accounting controls," which "endangered those same deposits."
In a recent report by Dapp Raddar, since the Terra debacle, the leading centralized crypto lending platforms (CeFi) have faced severe challenges.
Citing extreme market conditions, these CeFi firms paused customer withdrawals and transfers between accounts. The situation arises as a result of these platforms running short on liquidity. As the fear in the market continued, customers urged to get their funds back created a scenario similar to a bank run, where the lending entity is compromised due to a lack of liquidity to cover their customers' requests.
On June 13, Celsius became the first CeFi platform to pause customer withdrawals. As previously mentioned, the bank run effect caused by high volatility market conditions saw users trying to withdraw their money from the exchange where there was no liquidity to cover these obligations. To make matters worse, Celsius has over 400,000 staked Ethereum (stETH) worth $475 million managed through Lido. However, at the current 0.94 stETH/ETH ratio, the lending company is on the losing end, trying to cover its obligations in ETH.
Introduction of 1% TDS reduces crypto trading?
Inflation, rate increases, and rising oil prices have all had an impact on the volume of trading on cryptocurrency exchanges worldwide. Beginning on July 1, 2022, another element played
in India: 1% TDS. The Finance Bill 2022 added a new clause called 194S to the Income-Tax Act 1961, which states that on every sell order for cryptocurrency, 1% of the transaction amount is now deducted as Tax Deducted at Source (TDS). The seller may then apply this deduction to the amount that the cryptocurrency exchanges are required to withhold and deposit with the Income Tax Department.
Experts believe since the global market is facing so many issues, it would be difficult to say how exactly the market has been impacted, but this heavy TDS will impact, sooner or later.
Meta VR Accounts from August 2022
In August 2022, Meta will roll out Meta accounts: a new way for people to log into their VR headsets that don't require a Facebook account. Once a Meta account is created, there is no need to create a Meta Horizon profile — a social profile in VR.
A meta account is not a social media profile; it lets you log into your VR devices and view and manage your purchased apps in one place. In the future, we'll extend Meta account functionality so you can use it to log into other Meta devices.

To control what people can see when they view your Meta Horizon profile, we're introducing three privacy options: Open to Everyone, Friends and Family, and Solo.