The interest and curiosity around Metaverse continue to grow. If we have to believe various reports and data coming out from major consultancies and tech giants, it seems the brands' adaptability to the metaverse is on a sharp rise and no brand wants to miss out on the opportunity. Consider the following headlines of the past few months:
Metaverse to reach $5 trillion mark by 2030 as per McKinsey and Company
Meta, Microsoft, and other tech giants racing to build the emerging metaverse concept
Consulting giant KPMG forays into the metaverse with a virtual collaboration hub
JPMorgan becomes the first bank to enter the metaverse
Why are brands betting big on Metaverse?
As of now, the understanding of the metaverse is very limited, people often comparing with games or virtual reality. Very few would really know what Decentraland, Sandbox, Somnium Space, or Cryptovoxels are. We are too far from it becoming mainstream – might take a few years. Nonetheless, big brands
In a report released by JP Morgan – Opportunities in the metaverse, it describes from a social perspective, the development of more immersive virtual experiences helping people to build communities based on shared values, and to express themselves in more authentic ways. Meanwhile, COVID-19 accelerated the digitization of our lives and normalized more persistent and multi-purpose online engagement and communication. It is this combination of technological, social, and economic drivers that are resulting in explosive interest in the metaverse.
Every industry to be engaged eventually
Almost all experts believe that eventually, every industry will have a presence in the virtual world. In its report, Future is here: Global XR industry insight, it emphasizes the metaverse needs to rely on the existing industrial base to develop and integrate from the bottom up, and it is difficult to build a complete system from top to bottom via a unified standard. Therefore, in the early stages of development, various industries are expected to form small decentralized, multi-centered ecosystems of the metaverse; then the small ecosystems will gradually share data and form unified standards, thus achieving integration. In the mature stage of the metaverse, we don't know what it will look like, which is still full of all kinds of imagination.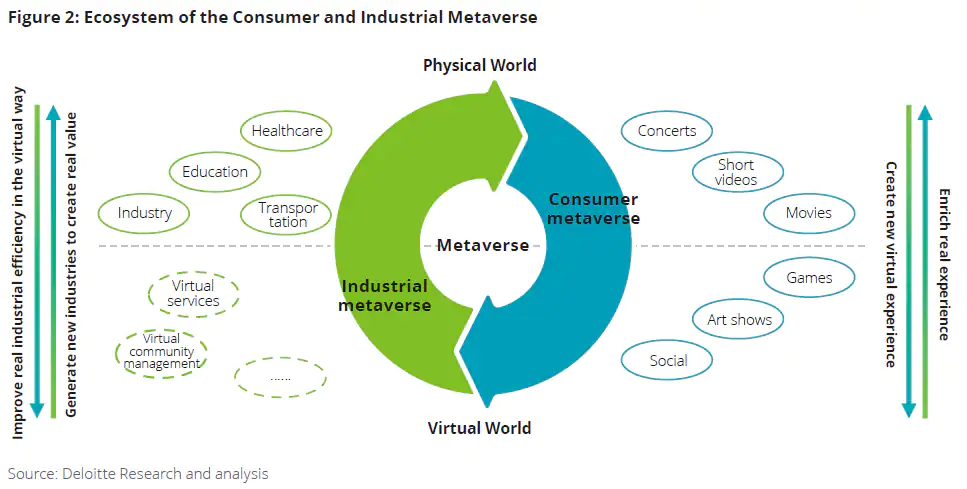 Metaverse will only grow with big investments
As per the McKinsey Report, large technology companies, venture capital (VC), private equity (PE), start-ups, and established brands are seeking to capitalize on the metaverse opportunity. Corporations, VC, and PE have already invested more than $120 billion in the metaverse in the first five months of 2022, more than double the $57 billion invested in all of 2021, a large part of it is driven by Microsoft's planned acquisition of Activision for $69 billion
The report further mentions that it may generate up to $5 trillion in impact by 2030— equivalent to the size of the world's third-largest economy today, Japan. It is shaping up to be the biggest new growth opportunity for several industries in the coming decade, given its potential to enable new business models, products, and services, and act as an engagement channel for both business-to-consumer and business-to-business purposes.
Future Vision: Entering the new era
Deloitte believes the early development stage is from 2021 to 2030. This stage involves further online, digital, and virtual applications and technological advancements in different industries, eventually forming a single scenario based on independent metaverses and small decentralized,
single-industry, multi-centered ecosystems of the metaverse.
The mature stage starts in 2031, during which the independent metaverses of different industries gradually share data and form unified standards, and achieve integration. Deloitte believes that in this stage, there will be a cross-platform and cross-industry ecological connection and integration—the small decentralized, multi-center ecosystems will integrate to gradually form two metaverse ecosystems respectively centering on industries and individuals.
Recently, Meta, Microsoft, and other tech giants have announced that they are building the emerging metaverse concept and have formed a group to foster the development of industry standards that would make the companies' nascent digital worlds compatible with each other.