The week has some good and some not so good news for the tech and crypto industry. Whereas the global crypto market showed some positivity, the news that stablecoins lost their peg to the dollars exposed the volatility of the market. Zoom and Meta announced some new features to enhance the quality of engagement with customers and teams. India successfully tested the first 5G audio and video call. These and more in this edition of Weekly News wrap up.
The global crypto market shows some signs of stability after weeks of volatility and concern. The value of the currencies has shown much stability, and some currencies showed a bit of improvement. The market took a huge plunge over the last several weeks, with crypto coins losing as much as 30 per cent of their values in a single day.
The Bitcoin price was above $30,000.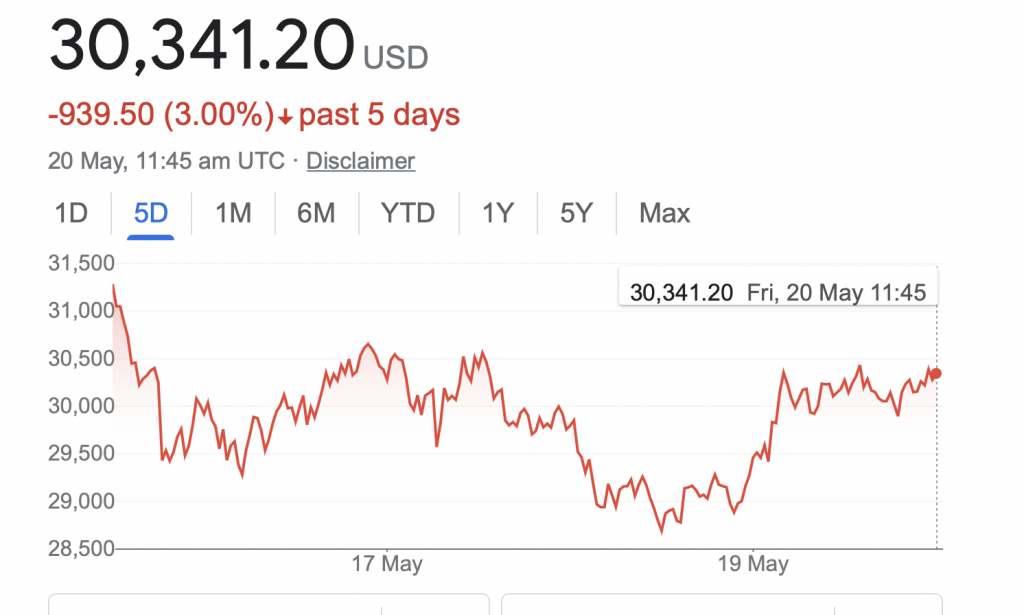 However, this instability has brought lot of fears in the market with investors giving a second thought about their expansion plan.
Emilie Choi, President and Chief Operating Officer, Coinbase, in a note to the employees wrote:
We've made an important decision to ensure we're being rigorous in our resource prioritization so we can emerge from this down cycle even stronger than we are today.
Heading into this year, we planned to triple the size of the company. Given current market conditions, we feel it's prudent to slow hiring and reassess our headcount needs against our highest-priority business goals. Headcount growth is a key input to our financial model, and this is an important action to ensure we manage our business to the scenarios we planned for, specifically the potential Adjusted EBITDA we are aiming to manage to.
Stable coins turn unstable
This week stablecoins TerraUSD (UST) and Deus Finance's stable coin dei (DEI) lost peg with the US dollar, In a note, Tether clarified that it had reduced the amount of commercial paper in the reserve backing its $74 billion stablecoin while has boosted its holdings of US government debt while cutting exposure to riskier assets. It further noted a 17% decrease in its commercial paper holdings to $20.1 billion compared to the previous quarter and added that it had completed a further 20% reduction on that amount since April 1, which will be included in its upcoming report for the second quarter.
Zoom launches new features for hybrid workspace
while more and. more companies are moving to hybrid workspace, keeping the teams engaged remains a challenge. Zoom has come up with many features to connect the team in a fun and collaborative ways.
Create instant collaboration: In this, participants instantly see the host's app view (similar to a shared screen view), along with an invite so they can preview the app experience before joining. It works across all browsers so that all attendees can join in.
Co-create in meetings with Miro: Miro's online whiteboard in Zoom can seamlessly launch a collaborative workspace for everyone to interact, co-create, and capture ideas in real time. From ready-made templates to facilitator controls to visual tools like sticky notes and diagrams, Miro helps democratize participation across hybrid teams and produce more actionable outcomes.
#AskAway allows meeting participants to show off what they know about one another, or have fun guessing! This easy and engaging game can be played while waiting for a group to assemble, or simply to break the ice. Each round puts a different player in the hot seat while others guess how that player will answer. Discover how your co-workers, family, and friends think about food, lifestyle, travel, and much more.
MURAL is a collaborative intelligence platform that helps teams unlock innovation. The MURAL App for Zoombrings visual collaboration into any Zoom meeting. With Collaborate Mode, all participants can collaborate directly from Zoom with hundreds of pre-built templates and MURAL's Facilitation Superpowers™. Get more out of your meetings by trying MURAL for free if you don't have an account!
Meta's new products to make business messaging easier
Since online businesses are consistently growing and small scale business owners are looking at connecting with their customers easily, without much investment and knowledge of technology, WhatsApp Business, Messenger as well as Instagram are emerging as very helpful tools. Keeping these in mind, Meta has been enhancing the features.
The ease of the messaging and using it as a business tool can be an important element for engaging with customers. The fact that Meta organised its first business messaging conference shows how this market is evolving and why it is necessary to help the customers. On May 19th, at this conference, Meta announced various product investments that will make it easier for people and businesses to connect on WhatsApp, Messenger and Instagram Direct. Mark Zuckerberg announced Meta is opening a new, cloud-based version of the WhatsApp Business Platform. With this new API, Meta will offer free and secure cloud hosting services so businesses and developers can easily access its service within minutes, build directly on top of WhatsApp to customize their experience and increase their response time for their customers.
Through this new service, it would be faster to connect on WhatsApp whether a business wants to work with one of our 100+ partners or access our service directly,
Meta also announced recurring notifications on Messenger to make it easier to re-engage people right in the messaging thread and deliver tailored messaging at the best time for customers, whether to hear about special promotions, new product drops or tips and tricks.
5G call tested Successfully at IIT Madras
Communications Minister Ashwini Vaishnaw successfully tested India's first 5G audio and video call at IIT Madras. The entire network has been designed and developed in India, the minister said.
"Successfully tested 5G call at IIT Madras. Entire end to end network is designed and developed in India," Mr Vaishnaw posted on Koo.