The second week of the new year is almost over. Uff too soon. Just like the end of the year festive season that passed by in the blink of the eye. And the time has arrived to settle down and get back to business (and we know the beginning has been much exciting for you with new projects, and much more). While you were busy doing your stuff this week, check out some of those happenings and noise from the crypto world and technology industry.
Binance CEO Changpeng Zhao beats Mukesh Ambani to become Asia's richest person
Changpeng "CZ" Zhao was in the news this week for all the right reasons – as of 13 January 2022, he ranked 11th in the Bloomberg Billionaires Index which is a daily ranking of the world's richest people. CZ, who runs the crypto exchange Binance, estimated net worth was at least $96.5 billion, according to new calculations from the Bloomberg Billionaires Index. He featured just below that of Oracle founder Larry Ellison and surpassed Mukesh Ambani, the Indian tycoon.
Binance is an online exchange where users can trade cryptocurrencies. It supports the most commonly traded cryptocurrencies. It has been reported that the crypto exchange generated at least $20 billion of revenue last year. In one recent 24-hour span, it completed $170 billion of transactions. "Crypto is still in its growth stage," Binance said in a statement. "It is susceptible to higher levels of volatility. Any number you hear one day will be different from a number you hear the next day."
Nigeria lifts Twitter Ban
A statement released from Nigeria's information technology development agency said, "The Federal Government of Nigeria directs me to inform the public that President Muhammadu Buhari has approved the lifting of the suspension of Twitter
operation in Nigeria effective from 12 am tonight."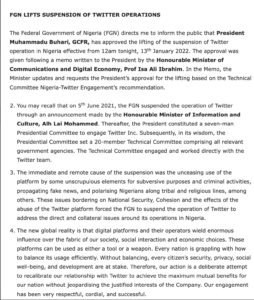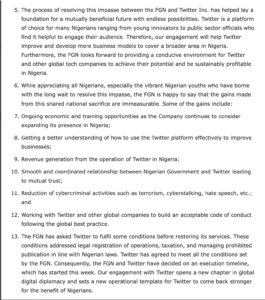 This end to the suspension of Twitter after seven months of banning in a dispute over a tweet by President Muhammadu Buhari has been a huge relief for around 40 million people who used the social network before it was banned in June 2021. Since then, the government and Twitter have been in negotiations for restoring the service.
Shutting down the internet or social media is nothing new and has been used by governments around the world, particularly in election periods. Prior to the ban by Nigeria, there were several governments including China, Iran, North Korea, and Turkmenistan had taken unilateral action to block Twitter in their countries. Others like Egypt, Turkey, Uganda, Pakistan, and UAE have also taken this step before.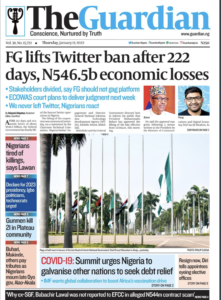 Hundreds of thousands of citizens have opted for the use of a Virtual Private Network (VPN). "Thank God for VPN" was trending on Twitter in Nigeria soon after.
It is projected Nigeria will have 103 million users by 2026.
Anti-trust violations: No respite for Facebook?
A few months back, only Facebook Inc felt a sigh of relief when the court dismissed federal and state anti-trust complaints. After that ruling Facebook shares immediately rose more than 4%, putting its market capitalization over $1 trillion for the first time. But the beginning of the year had another twist when several states on January 14th asked a federal appeals court to reconsider the anti-trust lawsuit. The primary argument has been the predatory nature of acquisition by Facebook to crush the competition. In 2012 and 2014, Facebook bought its competitors Instagram and WhatsApp, respectively.
The media have reported that the recent complaints revolve around Facebook's actions initiated primarily to crush all competition in the VR market. Known as Meta now, Facebook seems to have strategically acquired several to ensure a strong entry and positioning into the metaverse business. In 2021, it had bought the battle royale game Fortnite, the kid-focused game creation engine Roblox, and the best-selling game of 2020, Call of Duty: Black Ops Cold War. Recently it has acquired the developer of Supernatural, a VR fitness app.
Isn't it staying ahead in the market is a smart thing? You bet it is.
NFT collection Frosties vanished in a potential 'rug pull' after buyers put in $1.3 million
Ever heard of 'rug pull'? Well, the term had repeatedly hit the headline in 2021 aggravating further the volatility and negative sentiments about the crypto market. New York-based Chainalysis said cryptocurrency-based crime hit a new high in 2021, rising 79 percent to $US14 billion.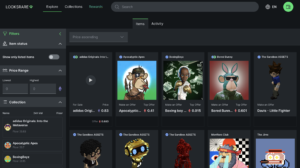 If morning shows the day, 2022 will be another big year for these scamsters. Not even 15 days into the year, the first NFT rug pull has reportedly cost investors nearly $1.3 million. The creators of Frosties, a collection of animated penguins wearing colorful and quirky clothing, disappeared off the Internet overnight. Shortly after the sale, developers of the project have shut all communication channels.
Coinmarketcap.com defines a rug pull as a malicious maneuver in the cryptocurrency industry where crypto developers abandon a project and run away with investors' funds. Rug pulls usually happen in the decentralized finance (DeFi) ecosystem, especially on decentralized exchanges (DEXs), where malicious individuals create a token and list it on a DEX, then pair it with a leading cryptocurrency like Ethereum.
Cybercriminals are now taking advantage of the ongoing craze around cryptocurrencies to trick potential victims and steal their digital money. In a recent report, research firm Chainalysis revealed that scammers mooched off over $7.7 billion ( Rs 58,698 crore approx.) worth of cryptocurrency from victims in 2021.
At least 36 percent of the victims lost over $2.8 billion to 'rug pull' cases.
Coinmarketcap.com writes rug pulls thrive on Decentralized Exchanges (DEXs) because these types of exchanges allow users to list tokens for free and without audit, unlike in centralized cryptocurrency exchanges. Furthermore, creating tokens on open source blockchain protocols like Ethereum is easy and free. Malicious actors use these two factors to their advantage.
NFTs – digital representation of artwork, sports cards, or other collectibles tied to a blockchain — have surged in popularity in the past year as investors from Wall Street and Hollywood get onboard.
OpenSea Versus looksrare: who's going to win?
Four days into launch, the daily volume on the NFT marketplace LooksRare has already exceeded $994 million! That sounds unbelievable, isn't it? Well, that's the kind of response the NFT space gets. It has already onboarded a total of 7,964 users. Speed matters. Its rival Opensea has 1.8 million active users and a dominant share of the market. One need not have to delist NFTs from OpenSea in order to list them on looksrare. That means the users are not likely to leave Opensea and they can list their NFTs on both platforms at the same time.
Probably to beat the competitor and strengthen the customer base, looksrare is offering only 2% fees on basic sales and zero fees on private sales, compared to competitor OpenSea's 2.5% fee on every transaction. The project also allows traders to earn rewards in the form of its native LOOKS token for buying and selling NFTs.