Web3 promises the internet to be far more democratized and decentralized, where the benefits and rewards are distributed among the creators and contributors. Aligned with this ethos, Stacked is building a live-streaming platform to be owned and operated by the community. The platform has received $12.9 million Series A funding from Pantera, a blockchain-only venture fund. This supports Stacked in its mission of building the future of live-streaming for Web3.
In a blog, Pantera very clearly explained the reason that led them to this funding:
Stacked is taking on the challenge by building a live-streaming platform owned and operated by the community. Stacked gives power back to those who provide value to the platform by rewarding them with ownership and decision-making power, resulting in a more transparent and fair system that creates a symbiotic relationship between the platform and its creators.
Since the advent of the internet 30 years back, more consumers have been shifting online, and the paradigm has dynamically transformed with the internet and smartphone penetration. Over five billion people use the internet, and 93% of them use their phones primarily to spend about seven hours every day online across various social networks. Over time, a significant percentage of users have shifted from being only 'consumers' to 'contributors' and 'creators' for these social media networks, creating billions of revenue for these platforms. However, these creators were hardly given any incentive for their content.
The 'creator economy', as we are familiar with, started only after the video-sharing platform TikTok introduced the $2B Creator Fund and incentivised creators who contributed significantly to the platform. Many other platforms followed the example in several different ways. However, the truth remains creators were never rewarded or shared any benefits they deserved.
Web3 platforms like Stacked might bring fresh hopes to the creators. As the blog reinforces, rewarding the creators for their contribution can drive Web3 adoption and innovation: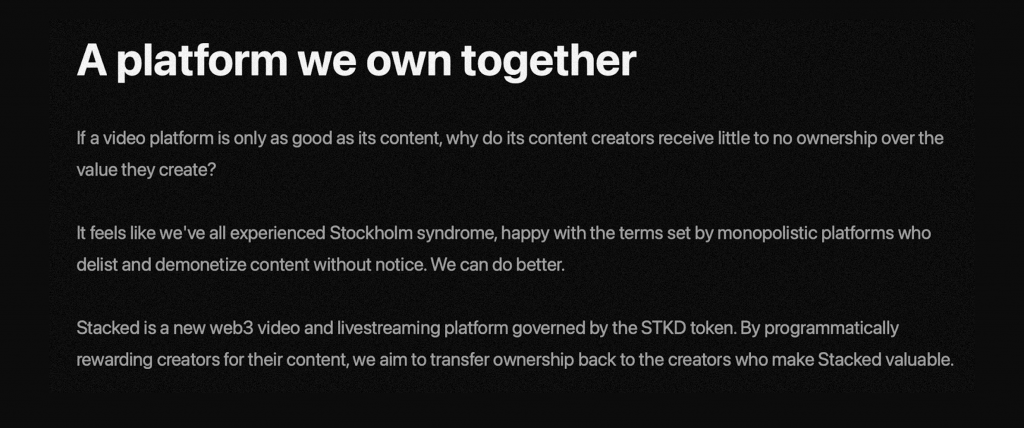 Stacked is building their platform for a wide consumer audience by making the crypto and blockchain elements invisible to the average user, and including popular features like chat and watch parties found in top streaming platforms. They also recently launched an NFT collection, Valhalla, focused on tapping into the gaming and streetwear communities and providing utility within the Stacked ecosystem.
As expectations are building up, Web3 platforms imagine and develop means and ways to help creators rebuild the global economy. That would be the real power of community-led internet.