A rally in bitcoin and ether pushed the crypto market cap back above $1 trillion as digital assets struggle against a bear market. Finance Minister Nirmala Sitharaman's statement on cryptocurrencies in Parliament created confusion about the government's stand on the currency. Singapore to act tough on crypto platforms in the coming months. Blockchain.com announced that it would lay off 150 employees, or 25% of its workforce. These and more in this edition of Weekly Tech Market Friday Wrap-up.
Crypto Market this week
A rally in bitcoin and ether pushed the crypto market cap back above $1 trillion as digital assets struggle against a bear market. As stated in Business Insider India, "Bitcoin jumped more than 5% to cross above $22,000, representing its highest level since early June and giving credence to the idea that $20,000 may hold as an important support level for the crypto token. On the other hand, ether surged 12% to about $1,500 amid growing anticipation".
As per the data provided by CoinMarketCap, the total crypto market volume is $79.22B, which makes a 12.46% decrease. The total volume in DeFi is currently $6.40B, 8.07% of the total crypto market 24-hour volume. The volume of all stablecoins is now $71.93B, which is 90.80% of the total crypto market's 24-hour volume. Bitcoin's price is currently $23,497.94.Bitcoin's dominance is currently 42.22%, an increase of 0.04% over the day.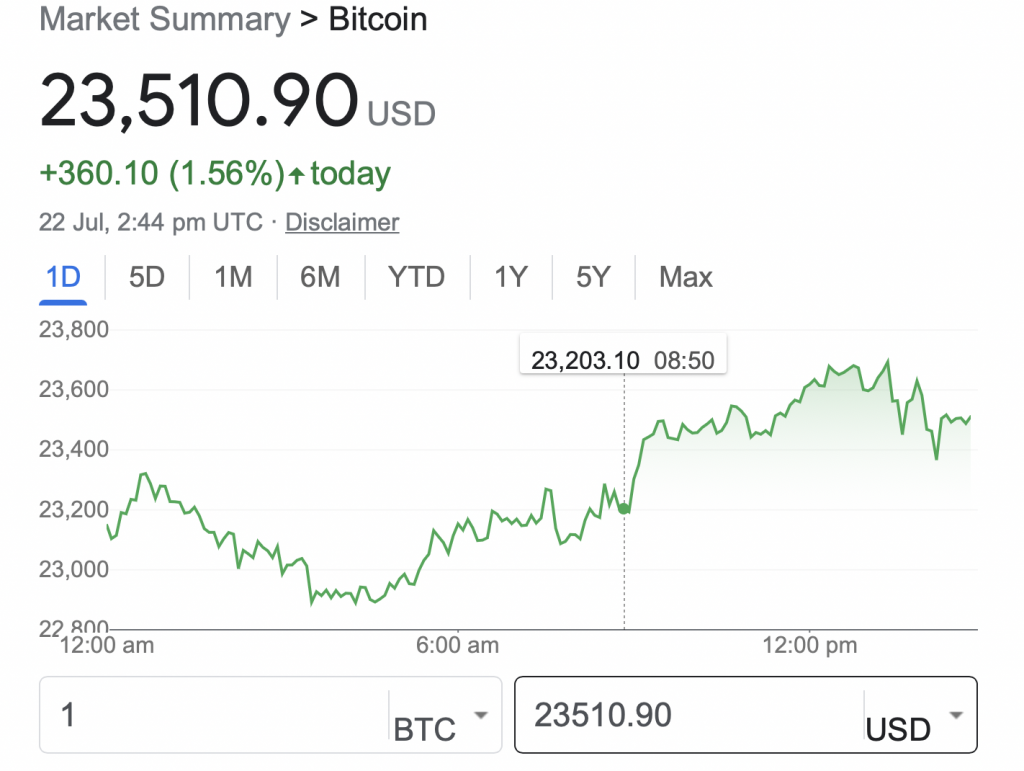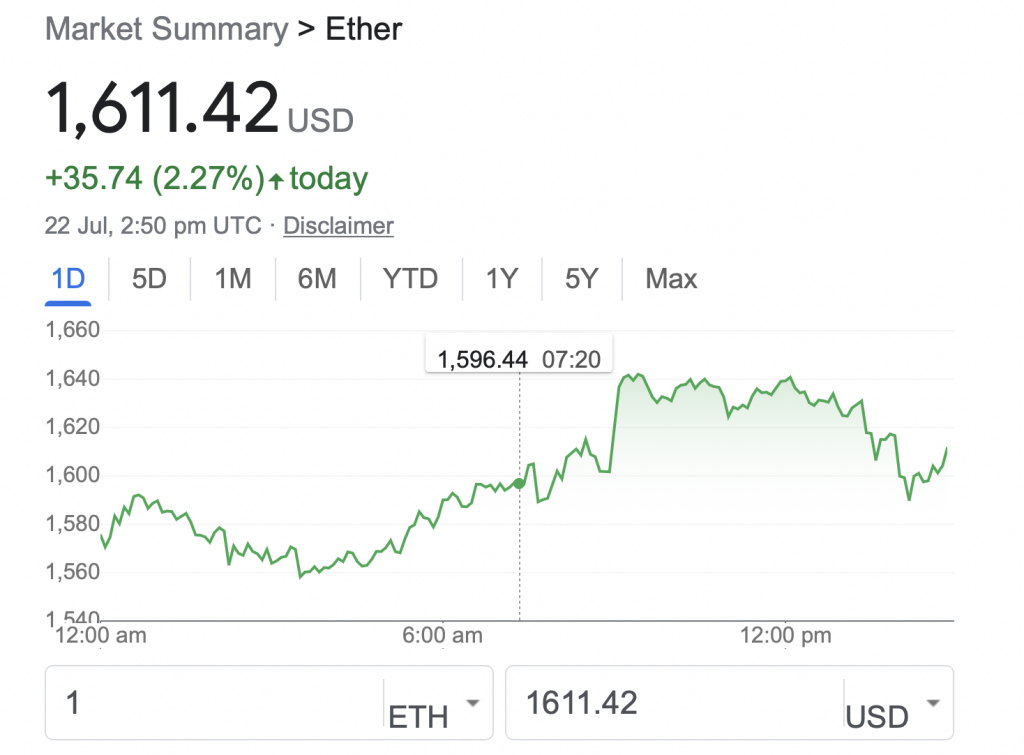 A positive signal or concern for Crypto industry in India?
Earlier this week, Finance Minister Nirmala Sitharaman said that cryptocurrencies could be banned or prohibited only after significant international collaboration. "Global collaboration is needed for any effective regulation or ban on cryptocurrency as the digital currency is borderless in nature". She was answering a question raised in the Parliament, and she referred to the Reserve Bank of India (RBI)'s cautious stance.
RBI's stance on cryptocurrencies and virtual assets is known. Earlier this year, Deputy Governor, T Rabi Sankar was quoted in the media saying cryptocurrencies are very much like a speculative or gambling contract working like a Ponzi scheme. In fact, it has been argued that the original scheme devised by Charles Ponzi in 1920 is better than cryptocurrencies from a social perspective.
Singapore to act tough on crypto platforms in the coming
months
A top Monetary Authority of Singapore (MAS) executive said that "amid the global crypto meltdown, Singapore, which has a clear licensing and regulatory framework, is going to act tough on crypto platforms in the coming months".
Furthermore, Ravi Menon, MAS MD, stated that investing in cryptocurrencies is highly risky, which is clear from the chaos occurring in the global crypto industry. In addition to this, he further said, "MAS and relevant government agencies will take firm enforcement action if any entity is found to be conducting illegal activities or performing regulated activities without a license." As the crypto world is facing a lot of uncertainties, governments across the world (including India) are planning strict actions against cryptocurrencies.

Furthermore, MAS is sending a repeated warning to retail investments in cryptocurrency. The authority is working on organising a dedicated seminar and workshops to share strategies on how to develop Singapore as a digital asset hub. With regard to the development of cryptocurrency, Menon said that "We will explain our position on cryptocurrencies, Stablecoins, blockchains, tokenisation, smart contracts and digital assets, etc. — their risks and opportunities; shortcomings and potential."
Blockchain.com Cuts 25% of Its Workforce Amid Crypto
Bear Market

Blockchain.com, a cryptocurrency exchange, announced that it would lay off 150 employees, or 25% of its workforce. The organization claimed that the main reason is the severe bear market circumstances and the requirement to sustain a financial loss.

The exchange recently disclosed that they had a $270 million shortfall after receiving funds from the struggling hedge fund Three Arrows Capital. The organisation will be closing its headquarters in Argentina.

According to the corporation, around 44% of the impacted employees are in
Argentina, 26% are in the US, 16% are in the UK, and the remaining are in the other
nations.

Future of crypto assets in India: will it be a ban or birth of
a new class
The crypto enterprise has grown over the last decade from a small network of builders to a trillion-dollar worldwide economic system enclosed with advance technology, diverse users across the world. This excellent boom has yielded enormous possibilities starting from infrastructure safety to completely new economies like Metaverse, NFTs, and DAOs. According to Tracxn, "the Indian nation attracted investments in blockchain and cryptocurrencies totalling $638 million over 48 fundraising rounds in 2021". Furthermore, India is making plans to release the virtual rupee—a CBDC (central bank digital currency)—for the duration of the present-day financial year.
upGrad acquires edtech platform Harappa Education for
Rs 300 cr

Online edtech company upGrad recently acquired an online learning platform named Harappa Education for Rs 300 crore. Ronnie Screwvala and Mayank Kumar, Co-founders of upGrad said "A combination of upskilling courses along with these critical skills that Harappa has to offer would set us apart. We see strong demand from our clients and with Harappa coming in, we
believe we'll be able to grow exponentially within the segment as we cross-leverage
the synergies."

Co-founded by Sinha, also founding director of the Indian School of Business (ISB), Harappa Education offers self-study courses to address the growing problem of low employability, inadequate leadership and an ill-equipped workforce. Harappa has an active customer base of 100 medium to large organizations.

The founders of Harappa, Sinha and Singh, said, "As a combined force, Harappa and
upGrad will anchor our purpose and conviction to create a truly wholesome learning
ecosystem for lifelong learners in India and abroad, with our time-tested pedagogy, flagship programs, and rich partnerships to guarantee unmatched outcomes for our
learners and clients".
Global Web 3 platforms launch Open Metaverse Alliance
A blockchain-based and Web 3 platforms have come into an alliance to launch the Open Metaverse Alliance for Web 3 (OMA3) to solve the issue of interoperability of industry. The OMA3 focuses on easing access across all Web 3 platforms. The organisations which have already joined the above-mentioned alliance are Sandbox, Animoca Brands, Alien Worlds, Dapper Labs, Upland, Meta Metaverse, Star Atlas and Wivity.

OMA3 is a decentralised autonomous organisation (DAO) that promotes "genuine ownership and real-time interoperability," according to its website. DAOs are Web 3 initiatives that are entirely managed by the community without interference from a higher power or the government.
OMA3 said. "We will build infrastructure to ensure the metaverse operates as a unified system where digital assets (such as NFTs), identities, and data are permissionless and interoperable for all and controlled by users, not platforms."