Cryptocurrencies continue to crash in the third week, Stablecoins collapses too. The news that the Twitter deal is on hold made it to the headlines while a couple of announcements during Google I/O grabbed everyone's attention. These and more news in this week of Friday News Wrap-Up.
Cryptocrash continues after 3 weeks, Stablecoins collapses too
The rising volatility and uncertainty continues, but this week it was another blow to the crypto investors.  The stable coin Terra Luna token fell from a high of $118 last month to $0.09 on Thursday. Similar to LUNA, the price of Terra's stable coin, TerraUSD(UST), is now worth around $0.6, down over 33 per cent in the last seven days.
BBC reported that the combined market value of all crypto-currencies is now reportedly $1.12trillion, about a third of its November value, with more than 35% of that loss coming this week.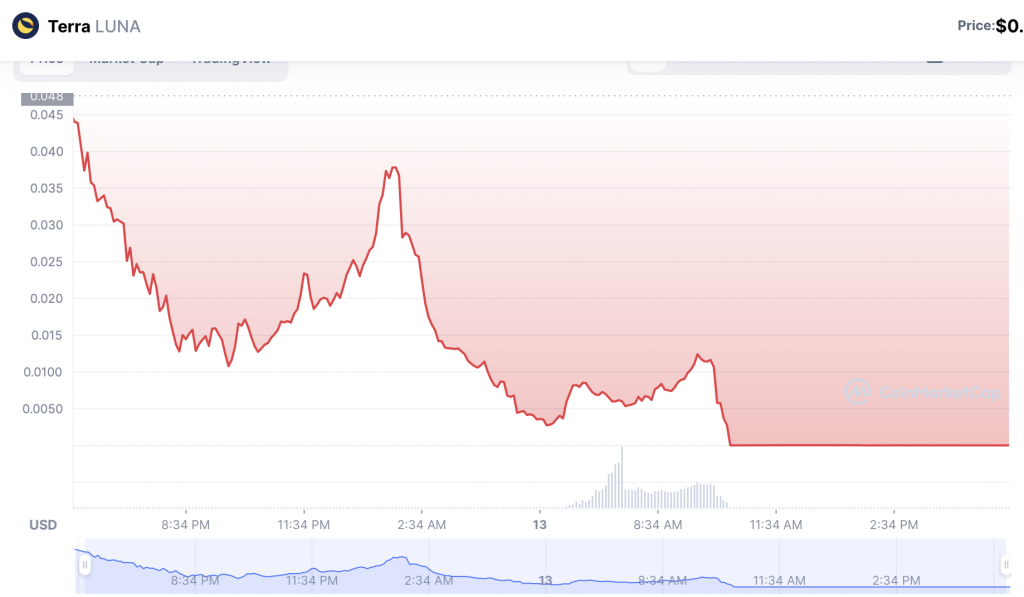 One Bitcoin is now worth about $30,000 approximately, its lowest value since December 2020 and down from a high of nearly $70,000 late last year.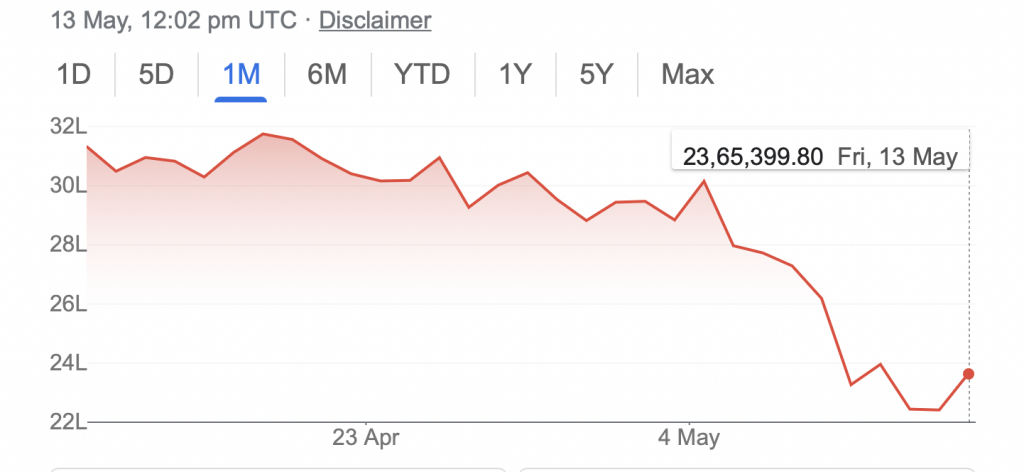 Twitter deal on hold?
It seems like a silence after a storm. After nearly three weeks of noise over Twitter deal, this news came as a respite to many in Twitter team who have been skeptical about the development. Last week, media reported that 19 new investors are keen to support the $44bn acquisition of Twitter. The total commitments of $7.1bn will have big names including Oracle co-founder Larry Ellison, venture firm Sequoia Capital and crypto exchange Binance. Elon Musk has hinted that Twitter will charge the business and government users.
Undoubtedly, if this deal does not go through, it will impact the Twitter on a long-term. Already its impact is seen on the share price.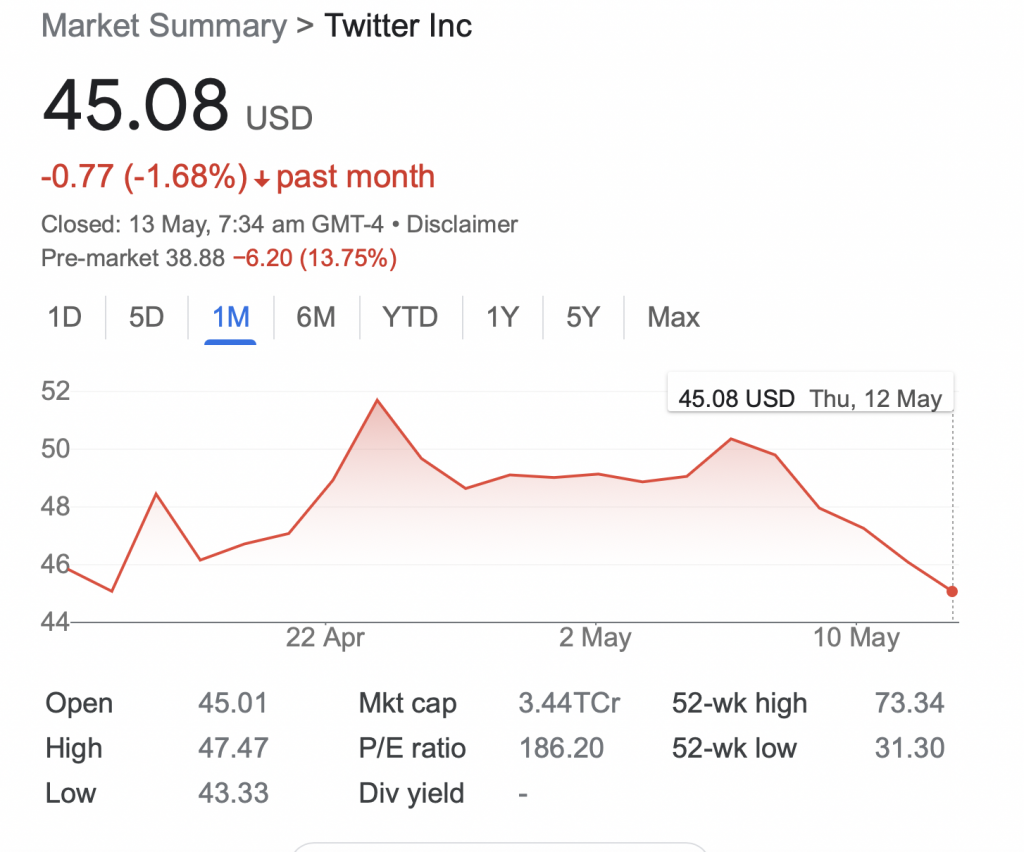 Share price of Twitter has plunged following the news that the deal is on hold. The Twitter stock price was down by almost 25 per cent at one point of time in the pre market hours on Nasdaq but later looked settled at around 17 per cent lower than previous close. Currently, Twitter is trading at around $37 and is down by over 12 per cent in the last 1-year period.
Earlier, media reported that top executives at Twitter are leaving the company. Twitter's general manager of consumer product Kayvon Beykpour and general manager of revenue Bruce Falck have announced their departure. Beykpour announced this in the Twitter and said: The truth is that this isn't how and when I imagined leaving Twitter, and this wasn't my decision. Parag asked me to leave after letting me know that he wants to take the team in a different direction.
Google's much awaited I/O 2022 was organised on May 11. Sundar Pichai, CEO of Google and Alphabet, said that the progress Google has made is because of years of investment in advanced technologies, from AI to the technical infrastructure that powers it all. He talked about the some of the latest technological development and products that supported communities around the world,
Google's flood forecasting technology sent flood alerts to 23 million people in India and Bangladesh last year.
improve your image quality in Google Meet
Adding 24 new languages to Google Translate.
Around the world, Google has mapped around 1.6 billion buildings and over 60 million kilometers of roads. Advances in AI are helping to map remote and rural areas.
Image quality improved in Google Meet
Auto-translated captions on YouTube.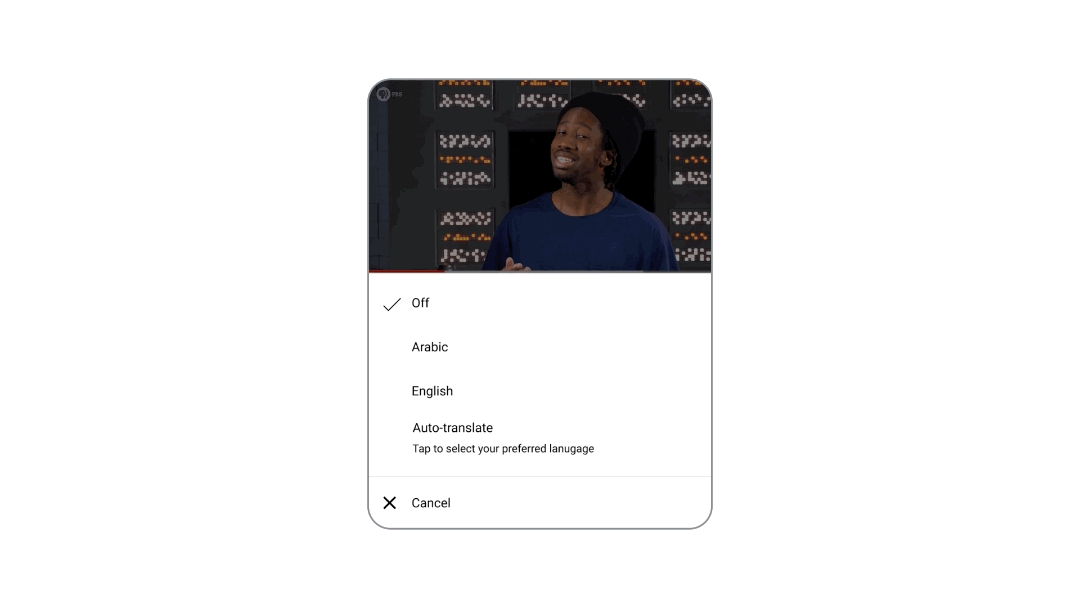 .
Apart from this, there were several announcements that became the highlight of the event:
 Digital Collectibles to Showcase NFTs on Instagram
Meta announced that it has started testing digital collectibles with a handful of U.S. creators and collectors who will be able to share NFTs on Instagram that they have created or bought. This feature includes:
Connecting a digital wallet. Once connected, creators and collectors will have the ability to choose which NFTs from their wallet they would like to share on Instagram.
Sharing digital collectibles. Once a creator or collector posts a digital collectible, it will have a shimmer effect and can display public information, such as a description of the NFT. Posts will also be visible on their profile.
Automatic tagging of both the creator and collector. The creator and collector can be automatically attributed in the digital collectible post (subject to their privacy settings).