Who's watching? Probably you still are. But many have stopped being subscribers of Netflix recently. And most of these have been subscribers of this streaming services giant for a long time. It is indeed surprising to see the company going through the rocks and in the news for all possible wrong news. The question is, have we had enough of Netflix?
1. Stranger Things are happening with subscribers growth
Netflix has been a part of millions of households for years. During the pandemic, it saw a record increase of 36 million subscribers in 2020. The number of Netflix subscribers grew to 222 million last year; it added 18.2 million members last year – roughly half the number who subscribed in 2020.  That's the lowest annual subscriber gain since 2016.
Netflix was expecting to add 2.5 million subscribers in the first quarter of 2022 but did not hit that target either.
2. Its stocks are crashing like House of Cards
Over the last couple of weeks, Netflix stock lost about 40 percent of its market value. On April 20, it witnessed a massive 35 percent fall; it further dropped another 4 percent on April 21. The company's market cap is reported to have dropped below the $100 billion mark, and it has lost about two-thirds of its value in 2022 so far.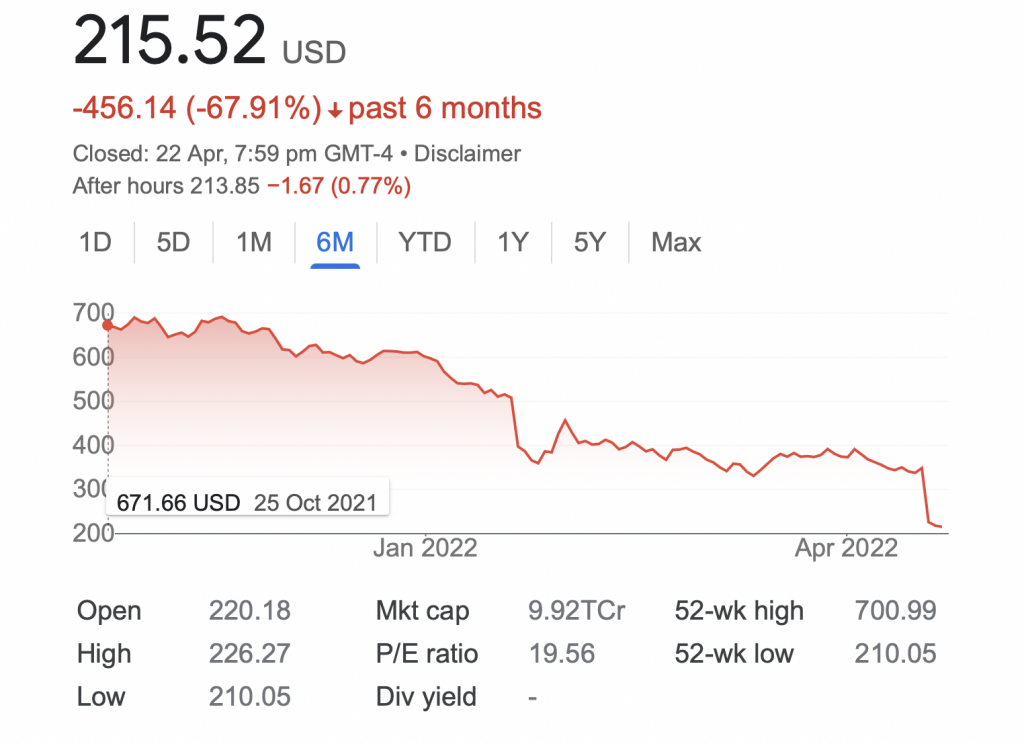 3. Inflation is rising, the Floor Is Lava
Post-covid market inflation is rising, and it has been a major factor blamed for declining subscriptions. While consumers are feeling the pinch and looking out for several options to spend less and save more, Netflix's decision to increase its subscription cost has been a disaster at the moment. In the United States and Canada, 600,000 customers decided to disconnect primarily due to recent pricing changes.
Similar patterns were noticed for other items where consumers can think of cutbacks. As per the CNBC|Momentive poll: financial literacy 2022:
Amid high prices, Americans face cutbacks: mostly on dining out (53%) and driving (39%)
Most (52%) say they're under more financial stress now than a year ago
81% say the U.S. will likely face a recession in 2022, as most disapprove (61%) of the way Biden is handling inflation
Majority of parents (83%) say parents are responsible for teaching children finances, yet 31% say they "never" talk to their children about household finances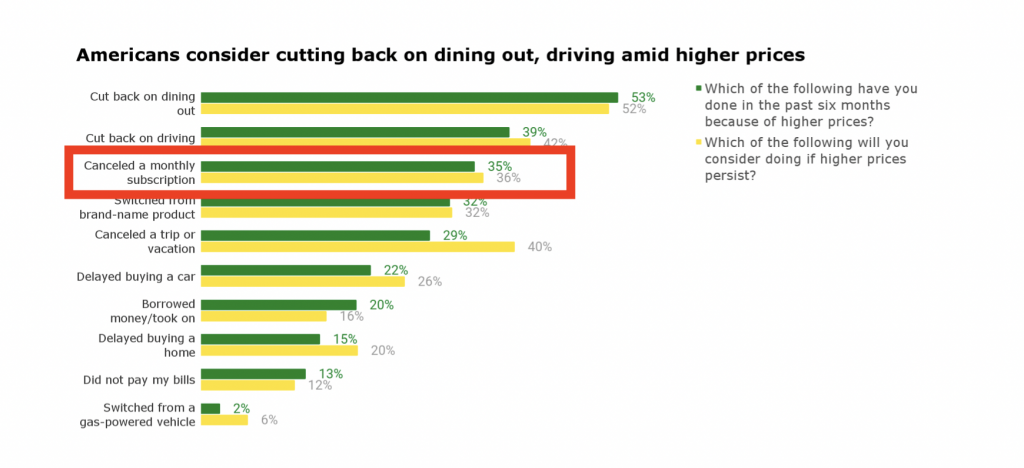 4. Nailed it? Not really, Netflix is losing its existing subscribers
Netflix might have a show for the audience that celebrates failure. But not exactly for its own failure!
 The company has itself addressed its investors in a letter about the issue. Among other reasons, it has pointed out market saturation. In addition to failing to capture new subscribers compared to the previous year, the company reported on Tuesday that it shed 200,000 subscribers in the first quarter of 2022, adding that it expects to lose another two million in the second quarter. 
5. A Series of Unfortunate Events, including Russian-Ukrainian war
There were incidents that were beyond the control of Netflix. Several businesses were impacted because of Russia's invasion of Ukraine. Many have to shut their operations in the country to increase pressure or to show solidarity with Ukrainians. The Russian exit cost Netflix 700,000 subscribers.
Netflix would have added 500,000 paid global users without that loss, which is still well below its projections. Netflix said this subscriber loss was anticipated and in line with expectations.
Other than this, as COVID cases are going down, the world is returning to normal. People are eager to get off the couch, go out of home and enjoy the world again.
6. Competitions are heating up! Lost in Space?
The competition is becoming very stiff, especially from Disney, Apple, Amazon, and HBO.
Is Netflix's loss its competitor's gain? Yes, could be. Its three competitors – Amazon, HBO, and Vudu are already up in the game and working on different strategies. Amazon allows anyone to stream a TV show or video for a comparatively lesser fee.
That being said, Netflix's troubles could be taken as a warning sign for its competitors.
7. Better Call Saul, for understanding market dynamics
Experts believe Netflix failed to understand local market dynamics when it comes to content as well as pricing. Globally, the streaming major is facing stiff competition from other OTT services. For example, Hulu and Disney+ are sharing the space in the US. is heating up, and similar issues it has faced in India for the last few years.
8. Unable to sustain the Fame Game, without local partners?
In a market like India, the OTT platforms partnered with the telecom companies to expand their market and reach out to more audiences. The telecom partners have managed to get a competitive edge by providing streaming services, ultimately adding subscribers to the OTT platforms. Netflix has, however, not been very keen on utilizing this opportunity.
9. Announcing a crackdown on account sharing among users, are You ready?
The Company said that it is losing because of widespread password sharing. "In addition to our 222 million paying households, we estimate that Netflix is being shared with over 100 million additional households, including over 30 million in the [the United States/Canada] region," the company said.
It has been reported that Netflix is currently testing the markets of Chile, Costa Rica, and Peru. Basically, to formalize what has been in practice and monetize it. Customers may have to pay an extra fee to share their accounts with two people outside of their household.
When the test was launched, Netflix said it was working to "understand the utility of these two features" before making changes in other countries.
10. Are games not really sacred for Netflix?
In November 2021, Netflix launched several mobile games for its subscribers, two of which focused on the Stranger Things franchise. The games are included for all subscribers and have no advertisements or in-app payment mechanisms (which is how most mobile games make money).
Executives of the company believe this could be a great step towards making Netflix more exciting for its younger audience; many felt that the company was probably not yet ready for it.
The Motley fool writes in an article:
From a technological perspective, the video game industry has not cracked cloud-based streaming, which is how Netflix and all other streaming services allow their users to watch shows without downloading the content. Except in rare circumstances or with older games, gamers download content directly to their devices. For Netflix, this is fine for mobile games, as it only creates a small amount of friction for users and is on the same hardware that people watch their shows. However, it will prevent the company from creating expansive, console/PC-level IP unless it is willing to go through hardware distributors like Microsoft, Sony, and Nintendo. Given that Netflix keeps everything behind its subscription paywall, this puts the company in between a rock and a hard place when deciding whether to make big-time games for its subscribers.
11. Sense8-tional news of its fall potentially costing the brand its long-term reputation
The news about Netflix losing its subscription might impact its reputation and value for a long time. It might leave a long dent in customers' trust. The reasons for it might be genuine – macro factors like sluggish economic growth, increasing inflation, geopolitical events, etc., but that would be of little help to explain the shocking news that is making rounds.
12. Failing to Invent An(na) original strategy to expand loyals
Netflix has not been able to crack any original strategy to beat its competitors and, more importantly, keep its customers' loyalty.
To win the hearts back, Netflix has to develop a strong content and pricing strategy. The expensive subscription has been a huge hurdle.
The company had said that it's doubling down on story development and creative excellence and that it launched the double thumbs up tool that will allow members to express what they truly love versus simply like.
13. To be or not to be? Getting back The Crown
Will it be an end of an era of the streaming giant Netflix? It would be interesting to see how the future of Netflix shape from here. Experts believe some ways can bring the streaming App back into popularity. Maybe it has to look at the localization of content (which necessarily does not mean changing the language) but making characters and narratives relatable.
The learning has been huge for its executives – the company has seen much up and down in the past. Consumers want original content, good packaging, and above all, pricing!
All in all, it would not be impossible to get back The Crown again!